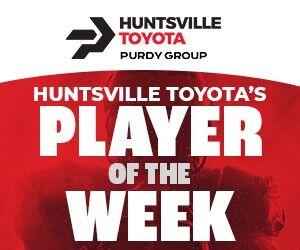 HUNTSVILLE — All three Walker County football squads hit the field this week for matchups, and all three teams were victorious.
The Hornets got past Lamar Consolidated, 12-7, for their first district win. New Waverly would return from a bye week and open up its district slate with a big win over Warren, 34-13. Alpha Omega Academy would travel to Tyler for their win over Tyler All Saints, 52-6.
This week's nominations for Huntsville Toyota Player of the Week are: Huntsville's Jeremiah Winfrey, New Waverly's Will Larrison and Alpha Omega's William Winn.
Jeremiah Winfrey, Huntsville: Winfrey had a big interception for the Hornets early in the game that saved a big play. Winfrey was a force on the defense and played a big factor in the Hornets' win.
Will Larrison, New Waverly: Larrison rushed for 85 yards in the Bulldogs' opening district game. He would rush for 85 yards and three touchdowns in Friday's game.
William Winn, Alpha Omega Academy: Winn is the Lions' primary kicker but also plays defense. In their game on Friday Winn would go 7/7 on extra points and added a 33-yard field goal. On top of his special team's work, Winn would add four tackles and a forced fumble to his stat sheet.
Voting for this poll will open at 6 a.m. on Sunday and close at noon on Monday.