When the Bearkat defense is on the field, it's no secret who their opponents are focused on keeping out of the backfield: senior defensive lineman P.J. Hall.
It's been that way since Hall was a freshman, and thanks to all the attention he has received from opposing offenses this year, first-year Sam Houston State defensive end Chris Stewart has been able to put up Hall-like numbers.
Stewart, a junior who transferred from Wake Forest, is tied for third in sacks (10.5) in the NCAA Football Championship Subdivision with and tied for 16th in tackles for loss (14.5). He is 1 1/2 sacks and 4 1/2 tackles for loss back of the leader in both categories — San Diego defensive lineman Jonathan Petersen.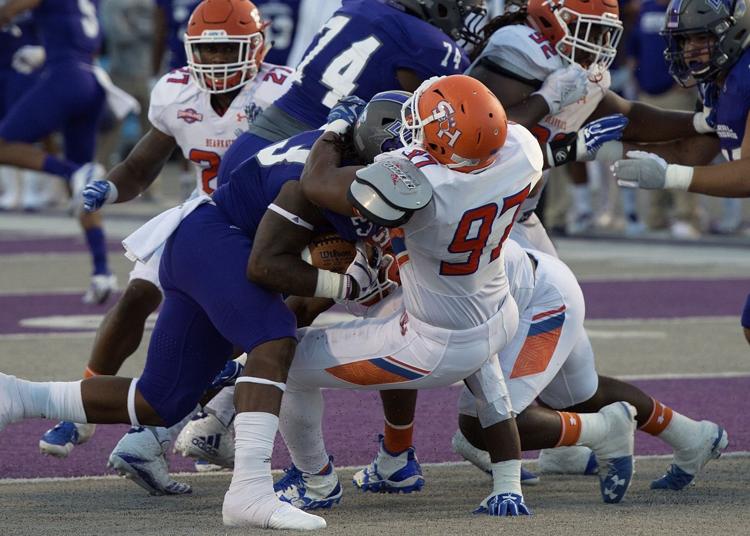 Stewart also has the fifth-most tackles on the Bearkats (40).
"I think the biggest thing for me is playing next to P.J.," Stewart said. "He gets most of the double teams and it really makes for a lot of openings for me to make plays. The plays that I have made this season, most of them have been because I'm going against one-on-one blocking or I have been left wide open."
Stewart became a force to be reckoned with shortly after moving from defensive tackle to end when Hall returned from a two-game suspension against Nicholls, recording two straight multi-sack games against Stephen F. Austin and Northwestern State in October.
In the last six games, Stewart has recorded 9 1/2 sacks and 11 tackles for loss, with the Bearkats' win over Lamar on Oct. 21 being the only game in which Stewart went without a sack or tackle for loss during that span. He finished with two sacks or more in four of those six games.
With Stewart's impressive numbers, it's somewhat surprising that he hasn't been added to STATS FCS' Buck Buchanan Award watch list like Hall has. That award is given to the best defensive player in the FCS.
"Chris is just a mismatch in terms of his athleticism and his speed," Sam Houston head coach K.C. Keeler said. "I think right now he's like third in the country in sacks and I'm convinced that if he had played defensive end the whole year, he'd be No. 1 in the country in sacks. He gives us a unique structure in terms of all the guys that we can throw at an offense with our defensive line."
Keeler said Stewart has become a great role model for the younger Bearkats to look to as well, taking on a leadership role that new players can sometimes be hesitant of.
"Chris makes his impact every day in practice with the energy he plays with, his attention to detail and his communication skills," Keeler said. "He just brings an energy level to your team. He was voted to the leadership council, which is kind of unusual for a first-year player."
Stewart is hoping to help the seniors win their last regular-season game at Bowers Stadium on Saturday when the fifth-ranked Bearkats battle Houston Baptist at 1 p.m.
With the Huskies giving up the most sacks in the Southland Conference (39), Stewart may increase his numbers in the process.
"I know we're looking forward to capping the season with an exclamation point," Stewart said. "We really want to go out on the right note before the playoffs because it'll put us in position to (receive a first-round bye)." 
— — —
Follow The Huntsville Item Sports Team on Facebook or on Twitter @Item_Sports.