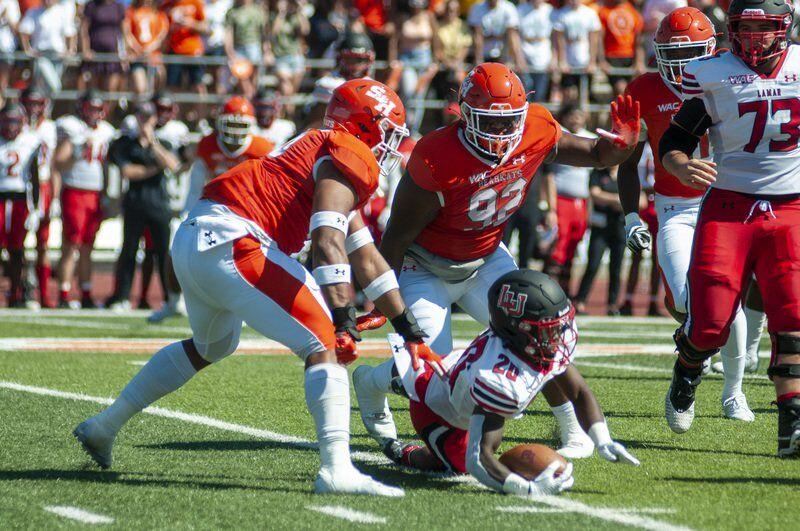 HUNTSVILLE — Sam Houston remains in the No. 1 team in the country after a 41-7 win over Lamar.
However, while the Bearkats captured their 16th consecutive win, it wasn't as pretty as they would have liked it to be.
"When you win 41-7 and you are not happy, you need to check yourself a little bit," Sam Houston's head coach K.C. Keeler said. "They [Lamar] played hard, we saw that on film, they are just up and down with how young they are… This is the so-called trap game, and I don't think we can have a bye at any better time than right now. We are getting them healthy, cleaning up a couple of things and just playing the second half of the schedule."
Junior quarterback Eric Schmid made his return on Saturday in a game that Keeler referred to as "maybe his worst game" as a Bearkat. He finished the game 13-for-31 through the air for 159 yards and two scores. He also threw two interceptions, and on several occasions overthrew his receivers.
The running game for the Bearkats also broke open.
Sophomore back Noah Smith got the nod and he took advantage. He finished his career day with 120 yards and a touchdown that came off a career-long 49-yard run.
"That's one of the things I told Ryan [Carty] we had to lean on," Keeler said. "I know he's [Schmid] off and you want to get him back on track, but we need to get this running game going. That's going to be the key for us to see if we can win another National Championship if we can get the running game going to the level we need it to be."
A bright spot in the game is that the Sam Houston defense continued to wreak havoc on a young Lamar team.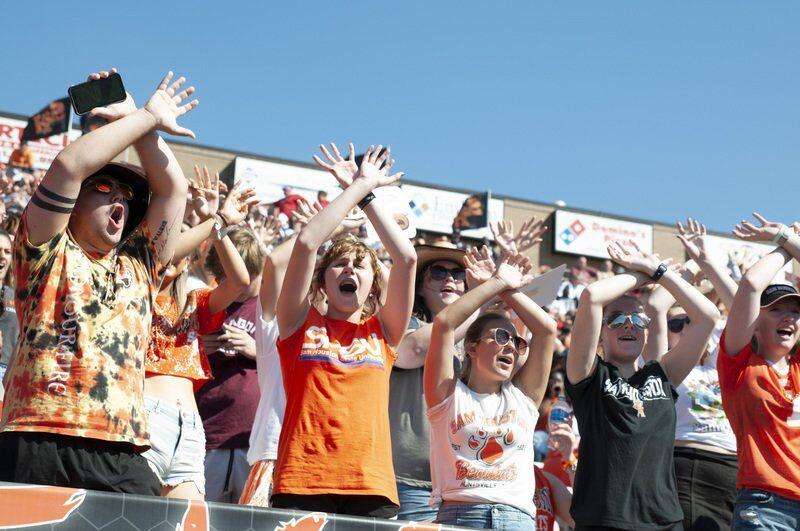 The Bearkats were able to get in the backfield 11 times and held Lamar to 158 total yards. The Bearkats were also able to get two first-quarter interceptions and forced two turnover-on-downs. All of which played a big role in the Saturday win.
"Having a bunch of old heads out there, it's a great feeling," senior defensive tackle Trace Mascorro said. "When the offense is coming out slow you can rely on the defense to kind of keep the game going, keep some emotion and high intensity in the game."
GET BETTER WEEK
Sam Houston will have their second bye week of the season at the halfway point of the regular season. The Kats will get to recharge their bodies for the second half of the season.
This also came at a really good time as the injury bug has appeared to strike.
Junior running back Ramon Jefferson and graduate Jequez Ezzard both sat out in the second half of the game. Having another week to heal the body and let the minor bumps and bruises heal will be key in the second half of the Bearkats title defense.
"There's a lot of guys that are banged up," Keeler said. "There's a lot of guys on this team that really could use this next week. We are going to shorten down our practices and get them freshened up. We know it's five straight after that."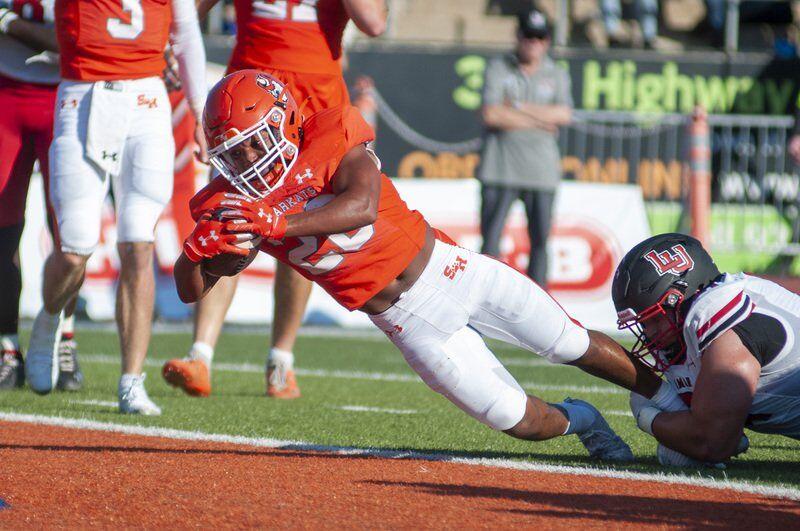 RUNNING GAME
Sam Houston's running game isn't where they want it to be yet, but it's not too far off from where it was last season. In the 10 games they played last season the Kats rushed for 1,588 yards, and through five games this season they have 1,111 yards.
"We have our old cat in K[ryan] J[ackson] and young guys that can go as well. We just practice hard. We get better each week," Smith added.
SCHMID
The junior quarterback got the start in this game but seemed off.
One positive with him was he used his legs and rushed for 67 yards, taking off for a few conversions. With Keeler likely to hold some 7-on-7 practices this week, maybe he will get his timing back on the deep balls.
NEXT UP
Sam Houston will have a week to continue to get better, but when they return will face Jacksonville State at Elliot T. Bowers Stadium with a 2 p.m. kickoff on Oct. 23.