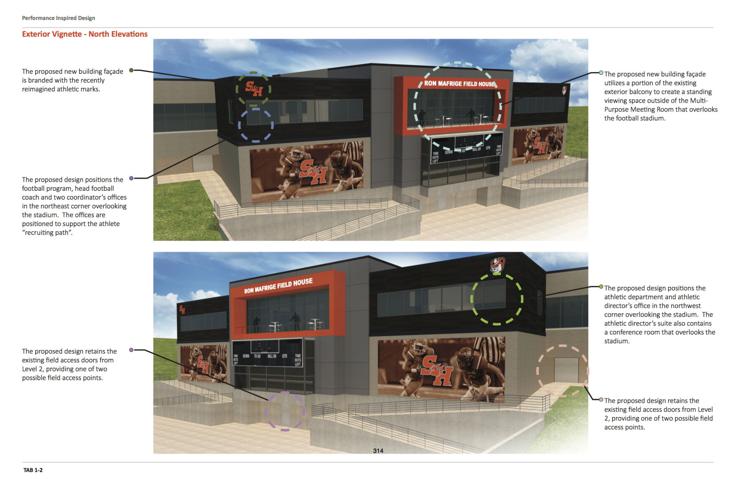 A staple of Sam Houston State athletics is set to receive a facelift, starting next month.
The Item has learned that the Ron Mafrige Field House — which provides a home to the Bearkats' athletics department and individual sport programs such as football and track & field, as well as support spaces for equipment, sports medicine, learning enhancement and others — will begin a long-awaited renovation in November.
The project will place an emphasis on completely renovating the interior of the building, with upgrades ranging from modernized locker rooms to enhanced work space for training, sports medicine, rehabilitation and other department personnel. The renovation will also give a brand-new look to the field house exterior, complete with SHSU's updated athletics branding.
"The main thing is we want to have a building that we're proud of, because we live in it every day," Sam Houston State AD Bobby Williams said. "It's also pivotal from a recruiting aspect, just by giving us more space. Bigger meeting rooms, bigger locker rooms, bigger training room. Then you improve everything from equipment, learning enhancement centers, nutrition centers and better technology in offices.
"The thing I'm probably most proud of is we are going to have one central entrance to the building, and when you walk in it's going to capture our success and our history. ... There are just so many things that are going to help us."
Ron Mafrige Field House has undergone several minor renovations since being constructed in 1986. However, it was determined that a major overhaul was required in order to address aging building infrastructure and provide competitive facilities for recruiting, performance and staff retention.
"We started the master plan 15 years ago, and through all of our renovations we had five or six different renderings that we were trying to get accomplished. What really helped us was when Carlos Hernandez, our VP for finance, got us together about renovating the (Johnson) Coliseum," Williams added. "We learned so much in that process about how you can take an existing facility and clean everything out, reallocate the space, rebuild it and modernize everything.
"We learned a lot during that and sort of changed gears about what we were trying to do at Mafrige. So that's what we're doing. We're taking everything out, reallocating the space and rebuilding and modernizing to utilize every piece of space that we have in this building."
A design proposal that was approved in August by The Texas State University System Board of Regents states that the project is expected to be finished in July 2021, with an estimated cost of $11,667,000.
"I think it's going to be a big morale booster for all of us to have something fresh after being in this building for so long," Williams said. "We'll have some challenges with playing football and track in the spring, because we're losing locker room space, so we'll have to tackle that with temporary locker rooms, showers and things like that, but it's just really exciting.
"It's kind of bittersweet because I have so many memories in this building over 30-something years, but I'm excited about getting back in here in July with something new and exciting."
Here are a few renderings of the Ron Mafrige Field House renovation, courtesy of PBK Sports.