As 2020 comes to a close, a handful of Walker County student-athletes have a memorable year to look back on.
Sebastine Amaro led New Waverly's football and basketball teams to the playoffs, securing the district's Offensive MVP honors in both sports. Huntsville senior Ed Bobino anchored arguably the most dominant defensive line in the state, and was named one of 10 Mr. Texas Football finalists as a result. Across town, Wade Williams carried Alpha Omega to its first basketball state title, while New Waverly's Langston Mayrant became the county's first state champion in wrestling.
However, after playing a leading role in historic seasons for Huntsville on the hardwood and gridiron, Jadarian "Tank" White has been named The Item's 2020 Male Athlete of the Year.
White's impressive 2020 campaign began on the basketball court, being named the District 20-5A Offensive MVP as the Hornets won 29 games on their way to a third consecutive league title. Huntsville went on to claim its first area title in over a decade, with White averaging a team-high 23 points in a pair of playoff wins.
For Huntsville head basketball coach Jay Oliphant, however, his star guard's growth off the court has been as rewarding to watch as his excellence on it.
"It's been awesome," Oliphant said. "Jadarian has been a part of the program for the past four years, and being able to watch him mature into a young man has been fun to watch. As much as I love winning basketball games, the biggest thing is watching those young men grow up and be able to do something with themselves when they leave here."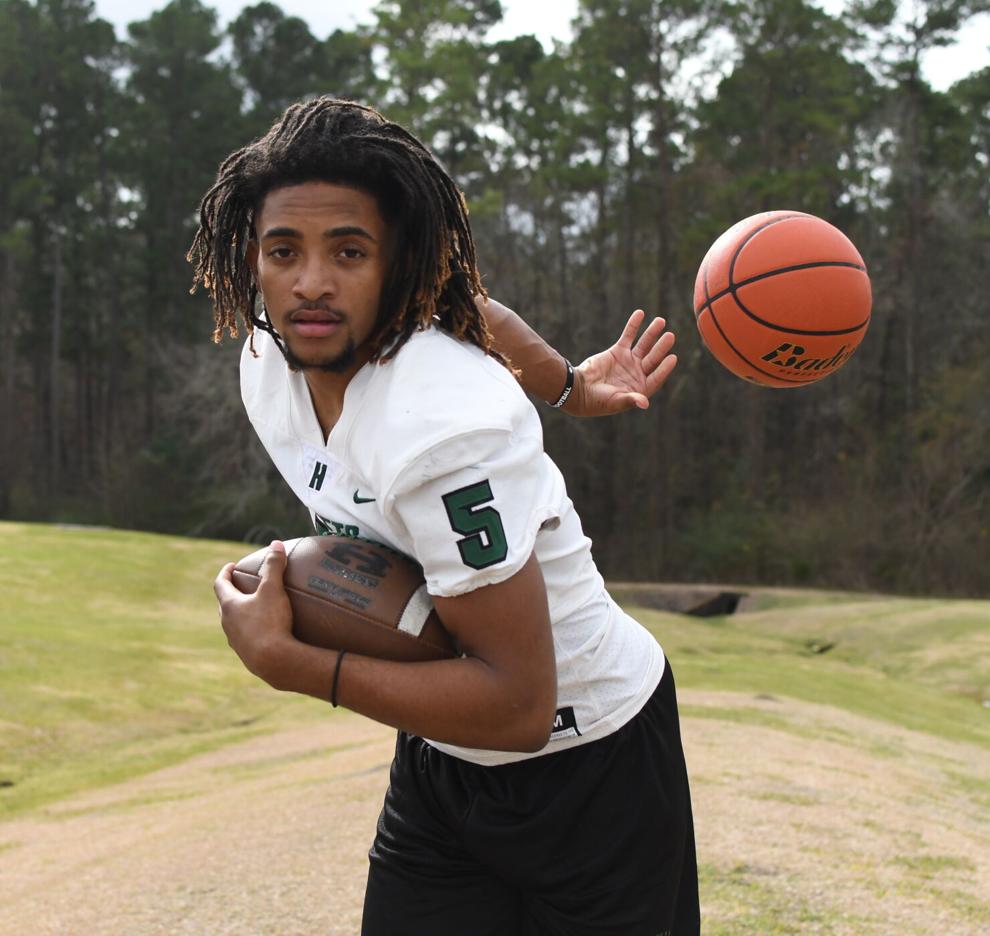 Rather than focusing his energy solely on basketball, as he had the previous fall, White made the decision to return to football for his senior season.
The standout safety points to senior leaders Ed and Brian Bobino and head coach Rodney Southern as key forces in bringing him back to the team, with defensive coordinator Scott Schroeder playing a particularly vital role.
"Coach Schroeder is like a father, so I had to come back and do what I could to help the team," White said. "He'd pick me up every morning to make sure I got here on time, and he'd make me stay after to watch film. He put a lot of hope in me to do a lot of things, so I had to come in and produce. He's like a father to me."
White's decision to return to the gridiron proved to be a wise one. The Hornets recorded their first undefeated regular season since the 1980s on their way to a third consecutive area championship, with White earning first-team all-district honors at defensive back in addition to a second-team nod as a kick returner.
"Probably the biggest thing was confidence," Southern said. "Tank has always had confidence in his ability as a football player, basketball player, whatever it was. He brought us confidence and a little stability — and obviously a 6-foot-3, 200-pound frame standing back there. He was a vital part of our success all year."
"I don't know where we would've been without him as a team," Ed Bobino added. "Everything about him is everything you want in a football player."
Huntsville's magical 2020 run ended in heartbreaking fashion last Saturday, with the Hornets suffering an overtime loss to Crosby in the Class 5A, DII Region III semifinals. The setback has only fueled White, who is still hungry to taste a state championship before his high school career is over.
"We're very motivated," he said. "We wanted to get the ring in football, but sadly that got cut short, so we have to do it in basketball. We have to bring a state championship to Huntsville."