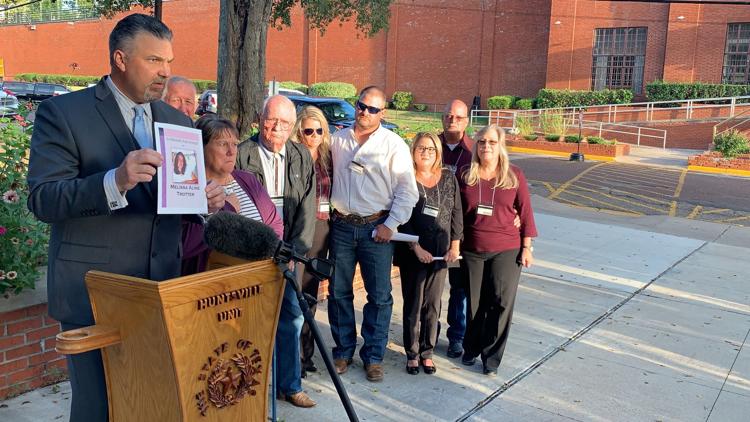 A Willis man — who has maintained his innocence for over 20 years — was put to death by the state of Texas Wednesday at the Huntsville "Walls" Unit. Larry Swearingen, 48, became the fourth inmate to die at the hands of the Lonestar State this year, after taking his last breath at 6:47 p.m.
Swearingen has claimed that his conviction was based on "junk science" since he was sentenced to death in 2000 for the abduction, rape and murder of a Montgomery County college student.
"Lord forgive them they don't know what they are doing," Swearingen said in his official last statement.
He would then go on to narrate the process.
"I can hear it going into my veins … I can taste it … burning in the right arm … don't feel anything in the left," the inmate added.
Swearingen was pronounced dead 12 minutes after a lethal dosage of pentobarbital was administered.
The victim — 19-year-old Melissa Trotter was last seen leaving her community college in Conroe on December 8, 1998. Her body was found nearly a month later in the Sam Houston National Forest near Lake Conroe, wearing the same clothes she wore on December 8.
"Today justice was served for Melissa," TDCJ Jeremy Desel said on behalf of the Trotter family. "We want to thank everyone for supporting our family for over 20 years. We want to praise God for getting us through this horrific ordeal … we feel that now we can move forward and start the healing process.
"We always knew justice would prevail for Melissa."
Defense attorneys fought Swearingen's case until the last minute, filing a petition for a Writ of Habeas Corpus and an application for a stay to the U.S. Supreme Court. They claimed that the presence of an unknown man's blood under the victim's fingernails at the time of the discovery of the body was the result of contamination. They also allege prosecutors used "false and misleading testimony" related to blood evidence and a piece of pantyhose used to strangle Trotter. Swearingen, who is also represented by the Innocence Project, had previously received five stays of execution.
IN PHOTOS: Larry Swearingen execution
Defense attorneys also stated in the petition that DPS conceded that its trace analyst should not have provided testimony that a pattern matching association of two pieces of pantyhose entered into evidence was a 'unique' match and a match 'to the exclusion of all other pantyhose.'"
Swearingen was the 12th inmate put to death in the U.S. this year and the fourth in Texas. He chose to have his body donated to science.
"Today at 6:47 the man that kidnapped, raped and killed Melissa Trotter was put to death by lethal injection," said Kelly Blackburn, the trial bureau chief for the Montgomery County District Attorney's Office. "An innocent man was not executed at all ... I stand here today more sure of that than I have ever been. Larry Swearingen needs to be removed from the annals of history ... a bad man got what he deserved today."
Prosecutors have said that Swearingen tried to get people to lie in order to give him an alibi. After his arrest, Swearingen got another inmate to write a letter Swearingen composed in Spanish that professed to be from the real killer and had it sent to his attorney. In 2017, Swearingen and another death row inmate, Anthony Shore, concocted a plan to get Shore to take responsibility for Trotter's killing. Shore was executed last year.
There are currently 11 executions scheduled throughout the remainder of 2019.