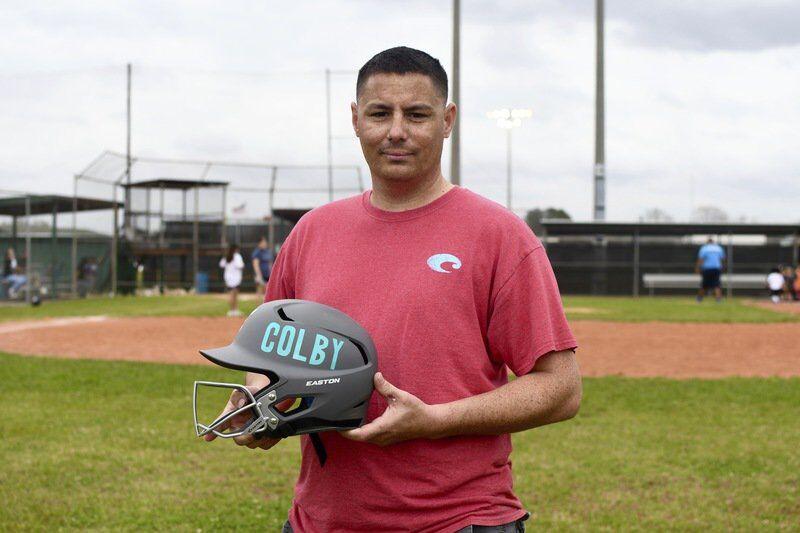 The Huntsville Baseball League kicked off its spring season by honoring one of its youngest player's untimely passing just months ago, because once a Rocky, always a Rocky.
"I always felt there was something special with Colby," father Cody Gladney said. "I always had this feeling of something telling me that I better hold on to him, because he wasn't going to be here for long. He was just sent here for a little bit to be with us."
On Dec. 12, Colby and his older sister, Briley, had been riding in an SUV with their grandparents when the vehicle was struck head-on by a driver trying to pass another vehicle in front of them on U.S. 190.
While the grandfather and Briley survived, the grandmother and Colby didn't make it. Colby was taken with his family to Houston for treatment, however, after learning that he would likely never wake up or be able to breathe on his own, he was taken off of life support and passed away on Dec. 31, the day after his fifth birthday.
Since then, Colby's story has inspired an outpouring of love and support from the community and beyond.
"He was real special, and I think it's shown with how much stuff has been done," Cody said. "He could melt your heart without really knowing him well." 
There was just something unique about Colby and his sweet disposition that made him beloved by all. The family's funeral expenses were covered by the community, and true to Colby's dream of being a "cowboy cop," and his nickname, "Cowboy Colby," a police salute and escort was arranged to bring him home from the hospital and every stop in the surrounding area that they had to make along the way.
"How many times do Houston police step in and drive a kid 72 miles home? They don't, you don't see it," Cody said. "It was God's way of bringing him home."
As Colby's story spraed, law enforcement officers from across the country sent in patches cut straight from their uniforms to the family, which will later be engraved on the sides of the sandbox coping at Colby's grave.
Colby, a Bedias native, loved playing outside, riding four-wheelers, going to school and spending time with his sister. Remembered as sweet and shy, he reluctantly played T-ball with the Huntsville Baseball League Rockies, but enjoyed his share of pitching and batting from time-to-time.
Most recently, to kick off the baseball season, Colby's memory was honored with a moment of silence and balloon release at the baseball fields of Kate Barr Ross Park on Monday evening. Following in Colby's footsteps, his younger brother, Caiden, joined the team for his first season, and threw the first pitch to conclude the ceremony.
"To see him run with his older brother's No. 10 jersey, to see him having fun, always looking up and pointing 'brother, brother,' is awesome. It keeps your heart pounding and makes your eyes kind of teary," Rockies head coach Mike Tijerina said.
"He'll never be forgotten, we're going to try to keep his memory alive as best we can with the help of the parents," Tijerina added.
"What helps me the most is the stuff that people do or have done like that," Cody said. "It seems like everybody that's touched Colby's life before and after, it's all been big or something special, something crazy."