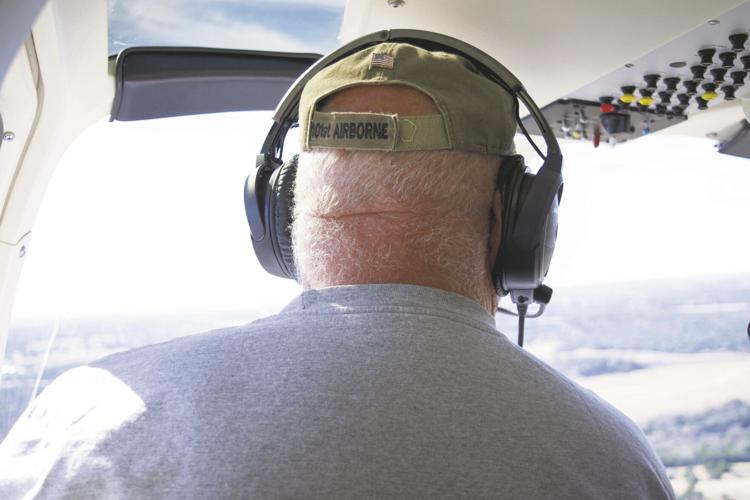 'Still crazy after all these years,' is an old song from the 70's by Paul Simon. I don't know what it really meant to him, but to me, it is the way of my life," BJ Shotwell said. 
As a US Army 101st Airborne Division combat helicopter pilot in the Vietnam War, Shotwell never imagined himself flying again – that is, until now.
"I had always been different and loved to do things that took some great effort to pull off. It made me special to be different, and everyone wants to be special in some way," Shotwell said. However, being different was always a lifestyle he sought out.
At an altitude of 800 feet, a 73 year-old Shotwell coasts above the rural outlies of Georgetown in the exact same helicopter as the one flown in the 1980's television show, Magnum P.I. It's his third flight out with Magnum Copters, a Georgetown based helicopter aviation school that Shotwell recently joined to renew his pilot's license. Shotwell is at ease and takes in the world around him, pointing out a lone cowboy riding through an open field below. A thin blue river swirls through the landscape as he demonstrates a landing entrance used in Vietnam. His landing target, a single flat rock in the middle of a dried-out section of the river bed.
For 10 years, the urge to get back in the air has been on Shotwell's mind. However, it was just six weeks ago that he found himself back in flight. It took years for Shotwell to even discover what was wrong with him after returning home. Panic and anxiety attacks ailed him frequently and no one at the time seemed to know what they were. A severe, crushing depression and raging anger battled inside of him.
"There is something about post traumatic stress syndrome that most people don't know, especially about Vietnam veterans," Shotwell said. "The memories never go away, they are still just as vivid today as if it all happened yesterday. The demons that they are will pursue me if I allow them to."
Learning to fly again, Shotwell wasn't sure what the outcome would be. For years, Shotwell feared that he would relive the PTSD of looking in the back of his helicopter to see a group of teenagers doing all they could to keep each other alive, the wind whipping the blood off of their bodies to coat the inside of his windshield and helmet a gruesome shade of red. However, a pilot at heart, he found peace in being in control of the chaos for once.
Shotwell always looked life straight in the eyes. He recalls the story of the time he once threw a box over a huge swarm of wild bees, and he tells it in the same line as a humorous memory of his pet chicken named Pizzaro that rode on his bicycle with him everywhere he went. He follows with a recollection of making a homemade parachute that he strapped to his sister almost tossing her off of the roof to their house before their mother intervened at the last second screaming at him. "Are you crazy?"
It wasn't the first or the last time for someone to accuse him of madness. "You must be crazy," people said — when he announced his intentions of becoming a U.S. Army helicopter pilot in the late 1960's and maybe he was.
Flying through the foggy abyss of Vietnam, bullets screamed up from the depths of the jungle at a 23 year-old Shotwell as he looked for a dropping off point to send more men into battle or pulling them out of it. Or as he called it, "bringing out the dead."
"Very few people have flown a Huey helicopter in the war in Vietnam like I did. There will never be another war like that. It was mean, dirty, nasty and so dangerous. The chances of a Huey pilot surviving it were incredibly small. The average fire fight took place at around 35 yards because of the close and thick jungle. It was four months before I even saw an enemy soldier – alive that is," Shotwell said.
Each moment making up the year that he spent in Vietnam is vividly etched in his memory as if it all happened just yesterday. The Vietnam war is in his head every day, all day, and never leaves – the lives he's saved, the one's he's lost and the stress of the personal responsibility he felt to save each and every soldier in his care.
"I was so scared so many times that I would die there, that the same thought ran through my brain. As I was flying into yet another hot landing zone, I said to myself every time, 'this is my last 10 seconds on Earth,'" Shotwell said. "I would be 20 seconds out from landing and the whole world went into slow motion, my vision was perfectly clear and colors bright, time slowed to a crawl. Three radios blaring in my ears all seemed to slow down, and I understood every word that was spoken. My control of the helicopter was perfect in every way, the helicopter and I were one. I touched down smoothly, almost not even feeling the ground and troops rushed to my ship and tossed in the dead and the wounded while bullets screamed toward us all."
For 10 to 20 seconds Shotwell would hover above the ground, collecting his troops before taking them all out to an evac hospital, where the dead were separated from the living. Being a Huey pilot was a job that was almost certain to end in death at some point, and it was still a roll of the dice that he took again and again, every day for a year in Vietnam.
"Like the old cavalry troopers who knew only to ride to the sound of the battle, I started out every morning riding to the sound of the battle. I never turned back, I never intended to become a hero, I don't think any of the pilots did," Shotwell said. "It was the nature of the work that made us the greatest group of heroes that ever existed. None of us thought the war would change us so much, none of us thought that 50 years later, some of us would still be crazy after all these years, but here I am, still crazy."
Flying a big Huey is like driving a 1969 Cadillac El Dorado at 100 mph, according to Shotwell, and you have to try really hard to "screw it up." Comparatively, Shotwell equates flying the Magnum Helicopter to driving a very, very fast sports car.
"We were only three minutes into our first flight when he handed over the controls to me. I thought to myself, 'is he the crazy one here?' I am now flying his 1.25 million dollar helicopter and we had not spoken more than a dozen words," Shotwell said. "More amazing, is that I flew like it was only yesterday that I was in a Huey, but it was 50 years ago. I must be crazy. Within 20 minutes he had me land in a dry creek bed surrounded by trees and rocks – and I did it."
Right away, Shotwell noticed that he was cruising along at about 130 mph, meaning that he would have to think ahead at the same rate, or risk ending up in a tree or augured into the ground.
"There's no brakes on a helicopter in the air, that is part of the fun of flying these things. It will let you go as far out on the limb as you want to go and it will rarely warn you that you are past your skill level. In fact, it will let you fly right into the ground and won't say a thing, it's all a part of being crazy," Shotwell said.
Looking down at the world once more, everything is simple for Shotwell. He has nothing to prove to anyone, not even himself. Crazy is a relative theory, and for Shotwell, flying is the therapeutic sanity he's always sought out.
"When I'm in the air, I have not one thought of the war. I am at peace with the demons and I am at peace with myself in my own world. There are no bullets screaming past, no dead or wounded kids, no fear – just the sound of the rotors and the sound of the wind," Shotwell said.
"I must be crazy," Shotwell said for the final time. "When is my next flight in that marvelous little helicopter?"