Huntsville has been known for 'Big Sam,' the 67-foot statue on the side of Interstate 45 since 1994, but soon he will be joined by 44 presidents up the road. 
A groundbreaking for the new Presidents Park will be held at the H.E.A.R.T.S. Veterans Museum Monday from 11 a.m. to 1 p.m., providing attendees with the opportunity to learn about the project and its local impact.
"During the groundbreaking, we will have a ceremonial shovel with museum volunteers and designer David Adickes digging the inaugural holes," H.E.A.R.T.S. Museum executive director Tara Burnett said. "Following the ceremony, we will relocate inside for a question and answer session with Adickes, with light refreshments."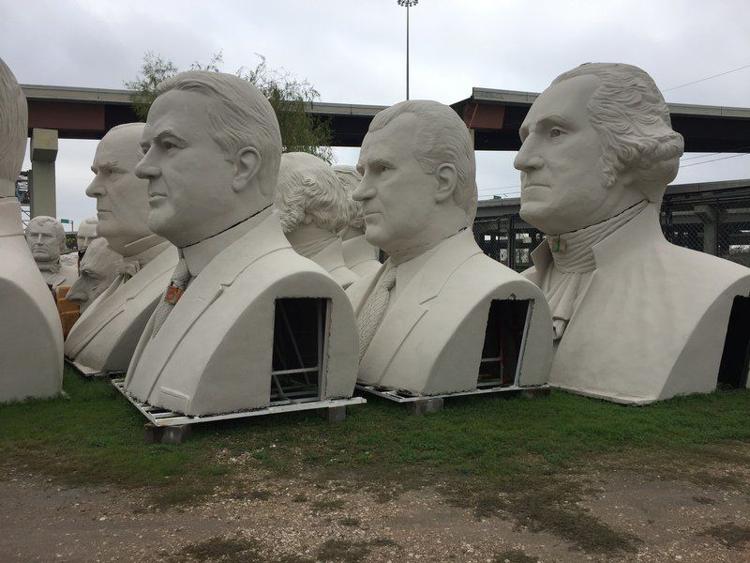 Presidents Park will sit on a one-acre plot, with 18-20 foot busts of presidents, from George Washington to Barack Obama. The park will also feature an American timeline from 1776-2020, to spotlight the busts, which are valued at $6.5 million.
"This project is in no way a political statement, but an addition to our local art and all the art Adickes has brought to Huntsville," Burnett added. "I think it is important for the community to attend the event, because there have been many misconceptions about how it will be funded. This is funded by some grants, but mainly donations."
The busts, which are one of three sets, have been housed in Adickes' Houston Studio. His other sets are featured at a Presidents Park in Leads, South Dakota, 50 miles from Mt. Rushmore and a park in Williamsburg, Virginia. Both parks have since closed. Adickes busts were initially designated for a park in Pearland, but the development was abandoned.
"This project really means a lot to us at the museum and many people locally. The president is the commander-in-chief and we will add a display about their role in the military in the museum," Burnett said. "We really wanted to do this for Adickes because he is a Huntsville native and made so many local contributions."
Placement of the busts will be done in three phases, starting with the transportation of the statues, which will come in two pieces on flatbed trucks from Houston. The second phase will consist of a capital campaign, as the museum will need thousands of dollars to complete the project and maintain it for years to come. The final phase will include the interior buildout, which will include lighting and security measures.
"All of the busts are completed at this time, it is just a matter of getting them here," Burnett added. "We also need to build the park to hold them, but once that is done, two busts will be put onto trucks and 22 trips will need to be made.
This will be a great attraction to Huntsville and a perfect addition to 'Big Sam.' There is nothing else like this."
Those wishing to donate towards the park can contact Burnett or museum board president Kenneth Lee at 936-295-5959. All donations are tax deductible and sponsors will be recognized with signage at the Presidential Park.