Walker County voters may be asked to support emergency response services this fall in the form of a ballot measure to create an emergency services taxing district in northwestern Walker County.
Petitioners will approach the Walker County Commissioner's court at 9 a.m. on Monday with the hopes of getting the creation of Emergency Service District 3 placed on the November 5 ballot.
An Emergency Service District is a political subdivision, like a school district or hospital district, which is formed to provide emergency services like fire or medical care to a community. Walker County currently has two ESDs, with ESD 1 in the northeastern section of the county around Riverside and ESD 2 in the southeastern part of the county surrounding New Waverly.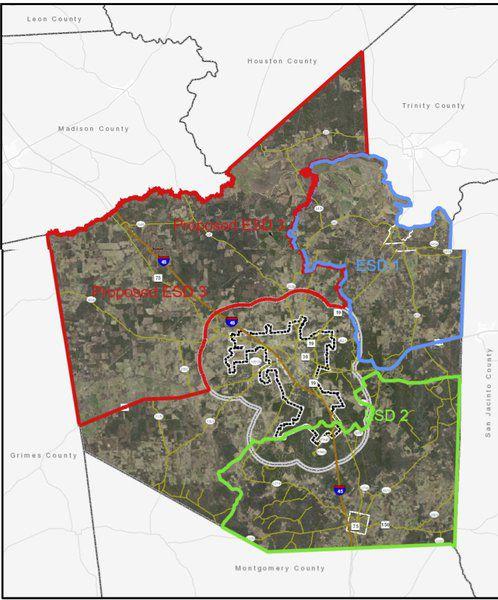 Officials with the Crabbs Prairie Volunteer Fire Department pushed for the new ESD with hopes of securing stable funding.
"They (Crabbs Prairie VFD) get a little bit from the county and a little bit from the special utility district, but a big chunk of their money is dependent upon fundraisers," said Walker County Commissioner Danny Kuykendall (Pct 1), whose precinct encompasses much of the proposed district. "It's really like trying to run a fire department on beans and cornbread versus steak."
If created, ESD 3 would be the largest emergency district in Walker County.
"Crabbs Prairie VFD covers one of the largest areas in Walker County … we run about as many calls as New Waverly VFD, but yet our funding comes strictly from the county along with community donations," Crabbs Prairie VFD captain Conrad Liles said. "Our firefighters have other jobs, so their availability does not allow us to provide the same level of service that New Waverly does."
Crabbs Prairie would not have control over the funds if a new ESD was approved by voters. Under state law, the new ESD would be governed by a board of five commissioners appointed by the Walker County Commissioners Court to two-year staggered terms.
Under state law, ESD tax revenues may be used to provide training, equipment and facilities for emergency services in the region. Those can include fire prevention, suppression and extinguishment, along with hazardous material incident responses, EMS first response and rescue services.
"Ultimately, it is the voters that are going to decide if they want to do this or not," Liles added. "The main benefit of an ESD is that we will be able to get true service for the citizens in northern Walker County."