A Huntsville High School alum brushed with fame when graduation season hit last month, as what began as a family photo recreation turned into a social media whirlwind.
Tori Roach graduated from Huntsville High in May 2018. Outside the ceremony — which was held at Sam Houston State's Johnson Coliseum, where her father, Dennis, graduated 18 years prior — the father daughter-duo took part in a photo-op that would go viral.
18 years later 🎓💚 pic.twitter.com/1zd5HVjz2m

— Tori🌊 (@__toritilla) May 27, 2018
Recreating an image of the two from Dennis' Huntsville High graduation, the father lifted his daughter up and gave her a kiss, as the two posed for a picture.
Tori posted both photos to her Twitter account last May, initially receiving "about 170,000 likes and 63,000 retweets." However, when the 2019 graduation season rolled around, the social media post gained significant traction. In addition to being widely shared by social media users on all major platforms, Tori and Dennis' story was picked up by national outlets such as People Magazine, Inside Edition and Good Housekeeping.
"I shared it last year, but it was only on Twitter," Tori said. "Then it started circulating again this past week. ... The first one to reach out was People Magazine, and I didn't think it was real. I was like, 'Oh my gosh, I just got published on People Magazine's website, and I'm from Huntsville, Texas.'"
"It's been kind of crazy," added Dennis. "I'm not one of those center-of-attention people, but it's been interesting. My family loves it."
Dennis still vividly remembers the moment that sparked all of this.
"I was holding her while I was waiting in line to go into the Bearkats' arena, and her grandma came over and took a picture of us," he said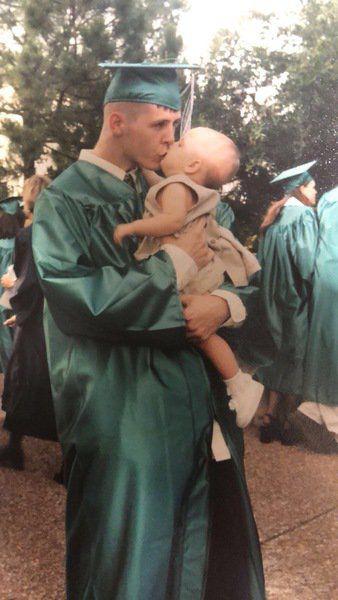 The idea to recreate the photo came about in the weeks prior to the ceremony, as Tori and her aunt were browsing through baby photos to display at her graduation party. They stumbled across the old image from Dennis' graduation, and knew they couldn't pass up the chance for a fun family moment.
"Whenever I took it, it was pretty awkward," Tori recalled. "People around us were all like, 'What is going on?' But I thought it was a pretty unique experience, because not a lot of people get to experience something like that."
For Dennis, it was undoubtedly a memory that will stick with him.
Not for the attention, or because of the photo itself, but simply as a proud father taking in his daughter's accomplishments on graduation day.