Huntsville High School and Sam Houston State University will be teaming up for "Buzzystock" or "Sammystock", depending on your allegiance.
The homecoming parade theme – in accordance with Woodstock's 50th anniversary – will feature decked out floats from both Sam Houston State University and Huntsville High School. The parade will make its way down Sam Houston Avenue, beginning across from the main entrance to Sam Houston State University this evening at 6:15 p.m. and ending on Avenue O.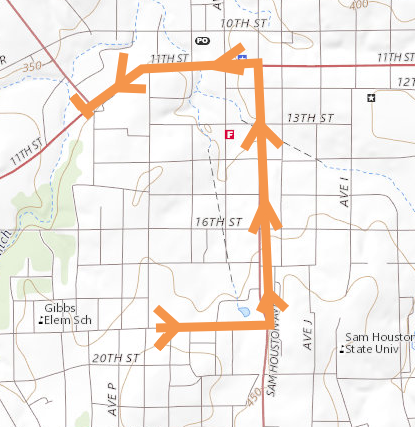 Huntsville High School students have been busy preparing floats ranging from trucks and trailers all the way to the size of larger 18-wheelers appropriately decorated with flowers, tie-dye and peace signs.
"These floats are a lot of fun for the students to build, and also a way for them to show their school spirit," Huntsville High School AP English teacher Kelly Jordan said.
A lucky few will also win a prize for their efforts as the senior class sponsors the Best Class, Best Club and Best Spirit trophies to be announced at the homecoming pep-rally on Friday.
Hungry parade-goers will be able to grab some dinner before heading home as the Huntsville Downtown Business Alliance will be hosting Party After the Parade from 6 p.m. to 8 p.m. in the downtown area. Numerous SHSU and HISD organizations will be selling food, drinks and spirit items while a DJ will be playing music at the Gazebo. Parade-goers are encouraged to bring cash to purchase food and drinks with.
In the coming days, Huntsville High School students will be stepping up their school spirit all week with dedicated dress up days leading up to the pep-rally on Friday.
The homecoming football game will follow that evening at Bowers Stadium at 7:30 p.m. as the Hornets are set to face Lamar Consolidated High School.
Sam Houston State University will go up against Nicholls State University Saturday afternoon at 2 p.m at Bowers stadium.