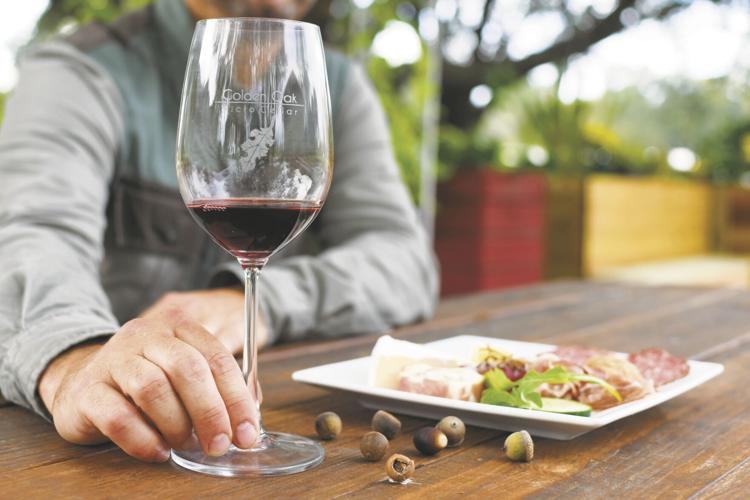 At the center of the Sam Houston Wine Trail, Golden Oak Micro Cellar opened just three weeks ago on a secluded property in New Waverly. Surrounded by neighboring livestock, the area is quiet apart from the occasional chatter of neighboring cows and horses. It's the perfect city escape that Alex Bader and his family were searching for six years ago.
Growing up in Austria, Bader was used to spending much of his time outdoors near the mountainscape and found himself wanting to return to the countryside where he could enjoy the outdoors as a getaway from their day-to-day life in The Woodlands, while exploring an ignited passion for winemaking.
A newly constructed cellar, tasting room and patio overlooks the vineyard, and a small picnic area resting under the shade of the property's looming oak trees. Strands of golden Texas sunsets filtering through the leaves inspired the name of the property in the golden Texas sunsets.
"For me, wine is really a craft and kind of an artistic product … there is at least one year in production until you can actually serve a wine and that whole process is just phenomenal," Golden Oak Micro Cellar owner and winemaker Alex Bader said.
He began with an experimental row of 25 vines of Merlot, one of Bader's favorite grapes, and, despite its susceptibility to Pierce's Disease, a deadly disease commonly found in Texas, the grapes have survived thus far.
"It was just, get your hands dirty, get started, and it survived, we had no idea, we didn't know in terms of the micro climate out here … we didn't know if it was going to survive and it did well so we just moved forward," Bader said.
Now, the vineyard spans an acre with over 600 vines of Blanc Du Bois, Syrah, Merlot and Camminare Noir grapes among wild passionfruit vines and roses. Given the small size of the vineyard, the grapes grown on site are used to produce grape juice, or sweet reserve, to sweeten the Blanc Du Bois, while the grapes used for fermentation are purchased from larger local vineyards to maintain the same taste. Remaining true to the authenticity of the area is important to Bader, it makes all of the difference in producing a unique product worth visiting for.
"We go on vacation once in a while and if we do, we always stop at a winery, you kind of have to do that … It's like a common language, it's not just the product, there's much more to it. There's nature in it, there's the crafting of the product in it, there's the culture in it and whatever comes with the cultures like traditions and methods," Bader said. "It's a very lively experience."
The winery's assortment of Blanc du Bois, semi-sweet Blanc Du Bois, Red Table Wine, Cabernet Sauvignon and Cornelius wines may take inspiration from California and Europe, however, their growth and production in East Texas takes on a flavor of its own.
Coming up for the vineyard will be a Sangiovese in December, as well as a peach-nectarine wine and a Port wine that will both be ready in about a year. The venue itself will also grow to accommodate small parties, business meetings or musical accompaniments, however, Bader hopes to maintain the quiet, secluded nature of the area. For now, only wine tastings are held Thursday, Friday and Saturday afternoons from 2 - 6 p.m. with the possibility for Sunday reservations.
A tasting of five wines – two whites, two reds and one dessert wine – comes out to just $8 with the option to add an accompaniment of small plates of paired fruit and cheeses or charcuterie assortments.
Golden Oak Micro Cellar is located at 1124 Jones Road in New Waverly.