Dockless electric scooters could make their debut to Huntsville streets in the coming weeks. 
The Huntsville City Council gave the green light for a six-month pilot program that will allow the use of electric scooters on city streets and sidewalks. The city will allow for two vendors with a fleet of 50 scooters each — one of which will be GOAT Huntsville, which will allow riders to rent scooters through a smartphone app.
Ride GOAT franchisees Brad and Amy Warner hope the use will help relieve traffic during the school year, and keep roadways safe.
"At this point, we just need permit approval and we will be riding," Brad said. "I will drop off the scooters at locations each morning and pick them up following close. We do not want it to be like other cities with scooters lying all around though."
The program will ensure that scooters will not inundate the city's sidewalks or cause issues for nonusers. According to the rules of the program, scooters will only be available two hours before sunrise and two hours following sunset.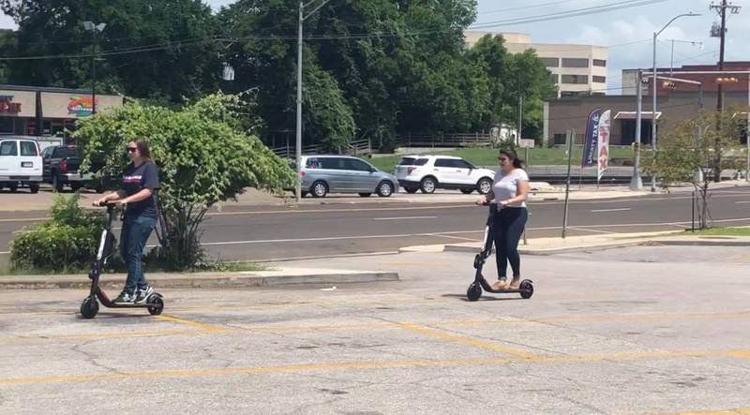 "I think this program will be a benefit for local restaurants and business," Warner added. For those without vehicles, it provides a great option and can help alleviate congestion around the campus."
Officials with Huntsville's Downtown Business Alliance agreed.
"I don't know of anything controversial with having these scooters in town," John Smither, who serves as the vice president for the Downtown Business Alliance, said earlier this month. "I see this as an instrument of tourism, and I think the downtown businesses will see this as an opportunity to draw more business."
"We feel like we are in the second wave of restoration in the downtown cultural district, and we are relying on students and youth tourism. Brad and Amy's service aligns with the comprehensive plans and will address the accessibility of transportation."
Scooters will only be allowed to be parked in designated areas, many of which will be near apartment complexes and other points of interest. However, scooters cannot operate on roads that exceed 35 miles per hour, which limits them to side and residential streets. Riders will also be unable to cross over Interstate 45, as the system will disable scooters that go outside of predetermined zones.
"We want to ensure riders and drivers are safe, so we are applying our own regulations along with those from the city and state," Warner said. "In order to use the scooters, riders must read our rules and follow them in order to utilize the scooters."
Riders – who must be 16 years or older – will be able to add money through the app and rent the scooters when needed. Each ride costs $1 and $.20 a minute thereafter. Currently, the scooters will not be allowed on the Sam Houston State University campus.
"SHSU administration was all for this program because of the benefit to students and the area surrounding the school," Warner added. "We are still cooperating with them and awaiting their official policy for the school year."