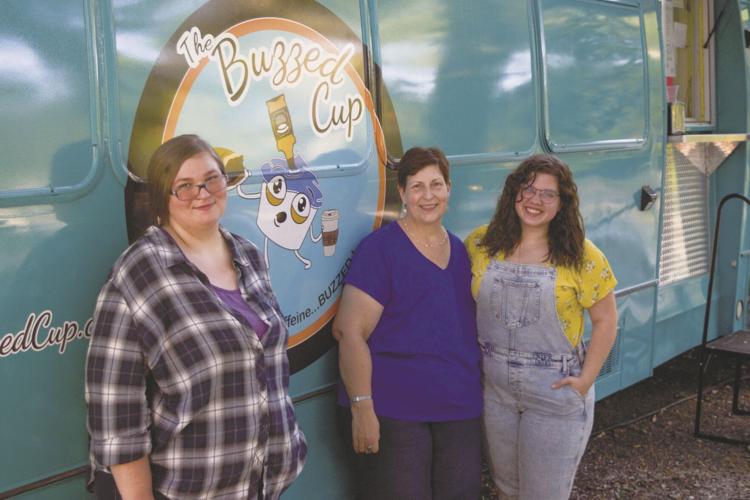 The Buzzed Cup is turning a new leaf for the Florer family.
Closing the Pita Pit franchise on Sam Houston Avenue marked the last chapter to a difficult past few years for owner Elizabeth Florer, and provided the freedom she needed to pursue her and her daughter's dreams.
At just 24 years-old, daughter and baker Cat McLean has spent her life developing her love of baking, however, she started to look at her hobby as a professional possibility six years ago while working in her family's Pita Pit franchise in Huntsville. Towards the tail end of the franchise, The Buzzed Cup made its first debut inside of the Pita Pit, before its closure in May as a last ditch effort that also set them up for their own mobile enterprise.
Florer purchased a retired church bus in September 2019 to give her daughter the means to pursue her dreams of baking for a living. After months of construction to transform the 31 foot bus into a "bustaurant" with a functioning kitchen, Florer and McLean took to the road on weekends, traveling the state festival circuit, serving specialty cupcakes and coffee. However, for now, they have found themselves settled at the Market Creek food park off of 15th Street where they softly opened last week. 
Being so close to campus, the pricing is student-friendly and includes two affordable meal deals for students to choose from. A $5 entree and $7 entree will be available daily, including either a loaded mac n' cheese or hoagie sandwich.
"Buzzed Massive Sandwiches" large enough for two people to share will also be available, and, of course, their famous cupcakes.
"She just has this magic with baking, which is amazing to me and that's really what this business is about, is enabling her to bake," Florer said.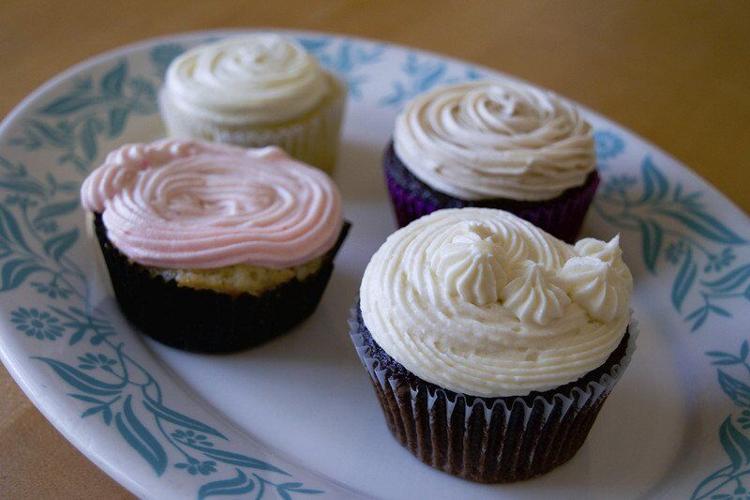 Inspired by Sugar Skull Sweets, a now-closed cupcake business in Huntsville that specialized in unusual flavors, McLean has created her own menu of 40 unique cupcakes with more in the works.
She pushes creative boundaries using natural ingredients with the use of alcohol infusions, jalapeño jelly, bourbon bacon and more. "Shades of a Lady" blends brownie liqueur with the heat of red pepper flakes to represent the inevitably sweet and spiciness of women, while the "Irish Whiskey" was developed for a motorcycle rally and holds the equivalent of a shot of alcohol.
"The cool thing about what Cat does is she treats it like chemistry, she really goes out and researches how the foods will interact chemically with each other and how to get the right flavor combinations. She's even designed a cupcake for a winery using one of their port wines," Florer said.
McLean is in the process of developing a cupcake for Tosca Winery in New Waverly that will be proprietary only to the winery itself. It's a service that will be offered to other wineries, craft breweries and distilleries in the area.
"It just made perfect sense to me, why wouldn't you? If I can put jalapeño jelly into a cupcake, why can't I do alcohol?" McLean said.
"With baking, I don't see why there should be any boundaries, unless someone says, 'that's bad, don't do that.' It's about experimenting and being able to have fun with what you can put into something and see how it tastes," McLean said.
While many of her creations make their way to being a permanent fixture of the menu, some cupcakes are much more special and will be available only in limited runs. 
One that has been developed to sell at Christmas time is rooted from a secret family recipe created by Florer's grandmother in 1940 that the family holds dear to their hearts.
"My family gets together once a year on the Florer Women Baking Day, and once a year we make loaves of this fruit bread," Florer said, describing the bread as incredibly moist and full of fall spices, fresh fruits and maraschino cherries. It's traditionally made in an extremely small batch just once a year for the family to share.
"If we share this with you, it's because we love you immensely," Florer said.
"These loaves are essentially more precious to us than gold," McLean added.
This will be the first time that the bread will be shared with anyone outside of the family. It's a way for Florer to show their love for the community that welcomed and supported them as newcomers eight years ago.
Florer came to Huntsville on a whim during a serendipitous rest stop at the local Pita Pit shop while on the road. Taken with the town and the idea of owning a franchise, Florer took over the shop, however, it wasn't the freeing experience she thought she was buying into.
After a devastating house fire, an aggressive battle with breast cancer and the struggles of being stuck in an unsupportive franchise, Florer was forced to close the Pita Pit in May. With a storage locker full of left over restaurant equipment, Florer decided to invest in herself and her daughter, purchasing an additional two food trucks to put the equipment to use rather than selling. It may seem odd, as the future of festivals remains uncertain, however, Florer has confidence that life will return to normal, and when that time comes, she'll be ready.
The Buzzed Cup will hold its grand opening Saturday at Market Creek food park, located at 1304 15th Street in Huntsville. To schedule one of the three Buzzed Cup mobiles for an event, to see the full menu or order online, visit www.buzzedcup.com.