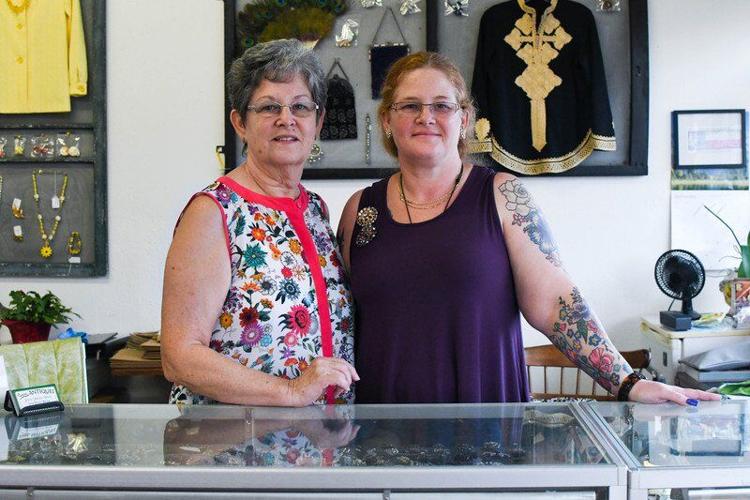 While the antiques business may be in turmoil as younger generations show less interest in their wares, one downtown business is still going strong despite a pandemic going on six months.
Co-owners and mother-daughter duo Linda Mazza and Stacey Grosjean of Reece Antiques are of a dying breed that finds curiosity and beauty in remnants of the past. However, while antique shops may be suffering in modern times, and small businesses overall have faced devastating effects from COVID-19, Reece Antiques has seemingly remained unaffected by the virus and is still going strong.
Aside from closing for 10 weeks from the end of March through mid-June, business has remained steady for the downtown antique store.
"We've only had maybe two instances where we've had to turn people away, because they wouldn't wear their masks. It's mandatory as far as we're concerned, whether you like it or not," Mazza said. "We're not going to contaminate the people who are in here or us, because if we go down, we'll be closed."
As people have been staying home for the past few months, Mazza notes seeing more people interested in leaving the confines of their houses and purchasing home decor to enhance their environment. However, it's their independence from the local economy that keeps Reece Antiques afloat.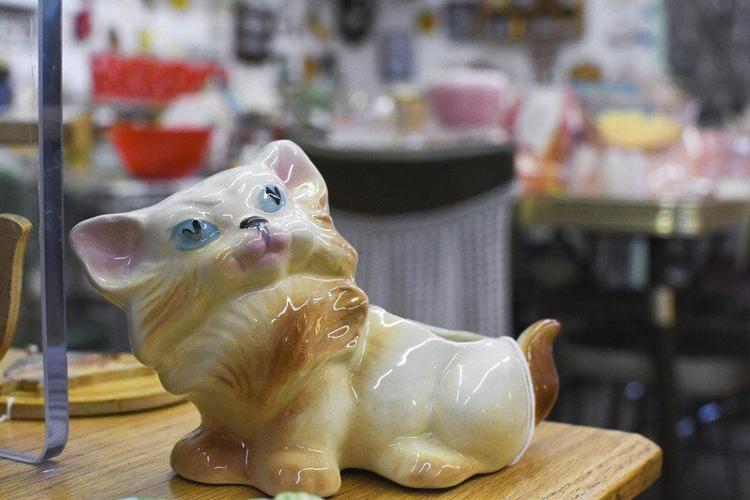 "Industries here in town don't make us, they don't break us either, but they don't make us," Grosjean said. The mother-daughter antique business thrives almost entirely off of tourism and out of town buyers.
"Most of our (business) is pass through or dealers that are coming through like when (Original Round Top Antiques Fair) gets ready to happen or Rusty Chippy (Vintage Show) when they do that in the spring or the fall over at the fairgrounds," Mazza said.
Loyal shoppers looking to decorate their homes with Reece's highly curated and stylized collection of mid-century modern antiques will also make trips in and out of town regularly.
"It's not a toss up of what you have in here – we're defined, whether it's mid-century or whether it's vintage clothing or kitchen … that brings a certain kind of clientele," Mazza said.
Nearing four years of business in their Sam Houston Avenue location, the duo behind Reece Antiques are considered newcomers to the downtown square that other established antique stores have called home for nearly two decades.
However, antiquing has always been a part of Mazza and Grosjean's lives, and has served as a hobby that they have bonded over throughout their lives.
"All of the years that she and I have been by ourselves, ever since she was little bitty, I've always shopped antiques and she always went with me, so that's a good thing because she acquired that appreciation," Mazza said of her daughter.
As the only downtown antique store that is not vendor based, their selection is picked solely by Mazza and Grosjean who travel out of state to purchase their unique finds that won't be seen in neighboring stores. Their selection brings the highbrow antique styles commonly sold for top dollar in Austin and Dallas to Huntsville at a lower cost.
"It's not hard to sell," Mazza said.
"We just have to be a little off-the-wall."
Mazza notes that their family is very artistically inclined and that her daughter, Grosjean, inherited an eye for design in addition to her mother's love for antiques.
However, the same enthusiasm for treasures of the past has not been passed down to Grosjean's daughter, leaving the business to end with the mother-daughter duo whenever that time may come.
"That's the generation … we live in a disposable world right now, if it breaks you just throw it away and get a new one. Well back then, you didn't have the money to buy a new one, so you had to make it work and I think the materials themselves were better," Grosjean added.
While records and cameras sell well among younger clientele, the hunt for the newer and better prevails while knick knacks and outdated technology reminiscent of "grandma's house" are increasingly being seen as junky and useless.
"It's going to be a lost generation, it's going to be a lost appreciation of these kinds of things as time goes on," Mazza said.
Reece Antiques is located at 1221 Sam Houston Avenue and is open Wednesdays through Sundays from 10 a.m. to 5 p.m.