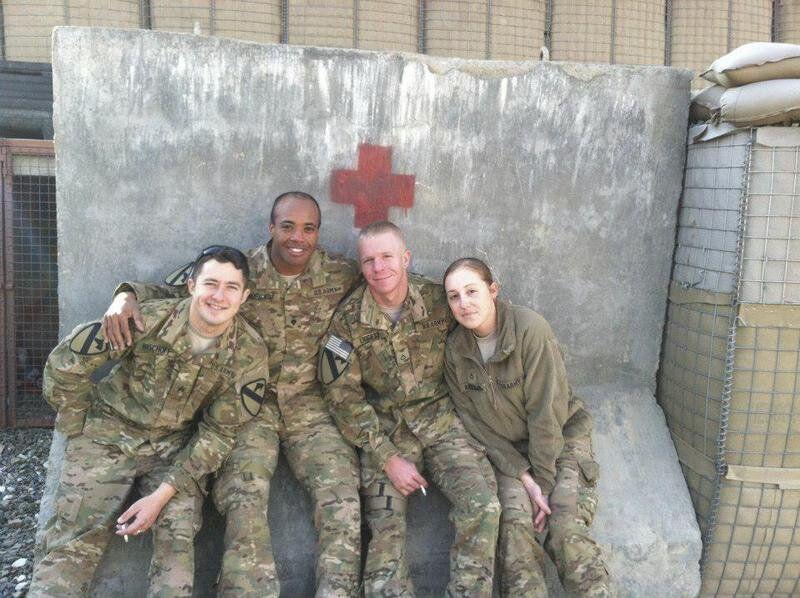 HUNTSVILLE — The war in Afghanistan may have come to a long-winded end, but for veterans at home, the battle is nowhere near over.
Iraq and Afghan combat medic turned veteran mental health support specialist, Charles Bischoff, notes that the fight against veteran suicide is growing as the United States' 20-year war in Afghanistan comes to an end and the Taliban regains control of the country.
Bischoff is now a mental health advocate, after experiencing the benefits of counseling and therapy in the eight years since coming home from his service in Afghanistan, stricken with PTSD, depression, hypervigilance and anxiety.
"It was intense at the moment for those split seconds of saving someone. There's no adrenaline spike like saving someone's life, we're trained for that, we're ready for it," Bischoff said.
"When you're overseas, you don't have time to decompress or to think about life, so you're not processing a lot of things until you come home," he added. "You're always in that fight or flight mentality when you're overseas because you're always on, you're always vigilant, you're not really trying to think about those kinds of things, you're just thinking about survival."
Medically retired from the United States Army, Bischoff works as a peer support specialist and mental health instructor for a veterans mental health service, helping service members, veterans and families get the help that they need, especially now that the war has come to a chaotic end.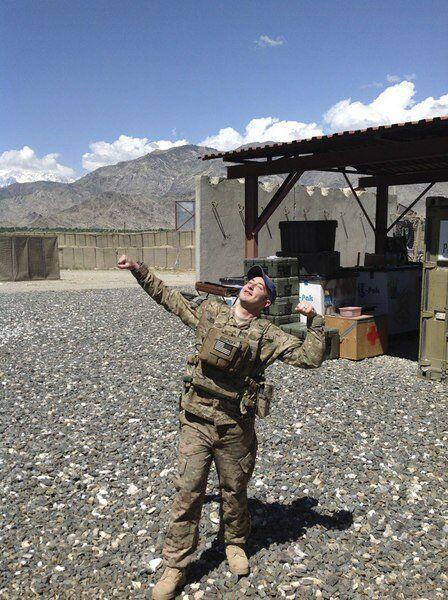 "Now, you have soldiers like me who are upset and don't necessarily know how to handle their feelings at all times, and now, me being in the mental health field, I have more workload to reach out to more people to make sure that the 22 (veteran suicide victims) a day doesn't have an uptick," Bischoff said, noting that he's gone from the usual one to two new weekly intakes, to six last week, five of which were Afghan war vets.
"You're going to ask what was it all for, but at the end of the day, a lot of us knew that we were there for one another and to have each other's backs. Me being a combat medic, I solely became a combat medic to save somebody's life downrange. My whole motivation was so that I could step in and hopefully save somebody's life and bring them back to their family," he added. "At the end of the day, we can hold our heads high because we did our job, we did our part, our politicians and elected leaders failed us."
Like any millennial, the day from which it all started remains emblazoned in his mind.
"I remember the moment I heard, I remember the first time I watched the TV, I remember all of it," Bischoff said.
Bischoff was a freshman in high school when the Twin Towers were attacked. While he always had an idea that he wanted to serve, he never thought from witnessing that moment on television that he would one day be in the Afghanistan desert, fighting in the Global War on Terrorism – but that's exactly where he found himself 11 years later.
Inspired by the heroic stories of both of his grandfathers who each served in WWII, Bischoff notes that he always wanted to serve. A Russian immigrant at 97-years-old, one of Bischoff's grandfathers remains with him today as his hero, for his involvement in Battle of the Bulge and the invasion of Normandy – two of the biggest offenses in the European theater. It was he who inspired Bischoff to enlist, and it was he who walked the parade field with him upon returning home from his service.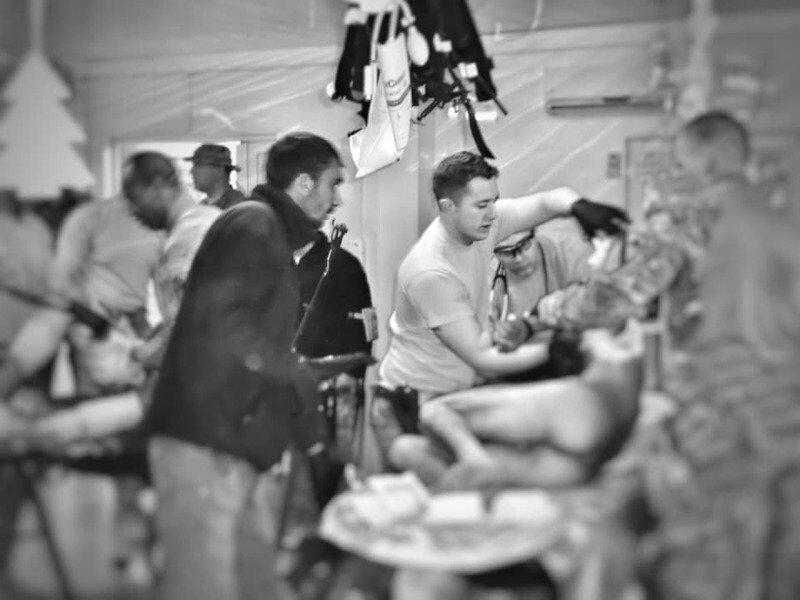 In 2008 and a few years out of high school, Bischoff had been working for the phone company, making good money for himself when the recession hit and he eventually lost his job, turning him back to his thoughts of joining the military. In 2009, he enlisted and trained as a combat medic before reporting to Fort Hood, where he was told that he would be deployed to Iraq the following year.
After a year of service, with another year of downtime in between, Bischoff was then deployed to Afghanistan from Nov. 2012 to July 2013.
"Our main mission there was to be present, to kind of have American influence back in that area and to not give the Taliban freedom of maneuver in the area," Bischoff said.
As a combat medic, he was assigned to a squad in the military's quick reaction force unit, responding to provide rapid medical care in developing situations. During his nine-month deployment, Bischoff and his team of three medics treated 113 combat casualties.
"At war, you see the best and worst parts of humanity. You see people literally throwing themselves into harm's way to save somebody else's life, this was seen through our Afghan counterparts, they would jump in front of a bullet for us, or we would push them out of the way, but conversely, you also saw the worst parts of humanity with suicide bombers," Bischoff said.
His unit was hit repeatedly by car bombers and shooters, making it a rare occurrence to not have a casualty coming across his table.
"There's plenty of stressors when you're overseas and things that you can't control and the environment that we're in, we want to control every single variable possible because it could be life or death," Bischoff said.
Bischoff had the misfortune of having to declare his first Killed In Action on March 8, 2013, when Retired Sgt. First Class Inez "Renee" Odom-Baker, was killed when three men dressed in Afghan national guard uniforms rammed a humvee into a base and opened fire. Baker had retired from the military just four months prior to her death and had returned to Afghanistan to complete what she felt was her mission, providing intelligence analytics through a private contracting company.
"I know for me, it is a day that replays in my mind more than it doesn't. It's hard to not blame yourself when a decision you made cost someone their life," Bischoff said, however, devoting his attention to the five other casualties, he was able to save all of their lives that day.
Previous to that, Bischoff remembers his unit being hit by a suicide car bomber while in convoy, which took no physical effect on his unit, as they were moving in armored vehicles, but the blast hurt civilian children in the area that they quickly worked to save.
"One of the worst things ever to see is children hurt, they're all innocent and that was my first encounter with a little girl who was dead on impact and there was absolutely nothing I could do to save her," Bischoff said.
"Being a part of those communities, saving those kids' lives or the ones that I could save, being a part of that is very impactful, even being involved in my interpreter's life to this day and just knowing that he's here (in New York) and that his children are going to have a better life is really amazing," Bischoff added.
Though not all have been so lucky. His interpreter's brother, who also worked with the U.S. government, remains among the estimated thousands of interpreters and allies stranded and fearful for their lives as they are now marked as traitors in Taliban-controlled Afghanistan.
"It's very upsetting to watch the events unfold the way they did," Bischoff said. "Any soldier you ask will tell you we knew this was probably going to happen."
The United States' occupation in Afghanistan was its longest war to date, forcing many to question the feasibility of continuing its scale of presence.
The withdrawal fell somewhat in line with an agreement formerly made under the administration of former President Donald Trump between its Nato allies and the Taliban in February 2020. Foreign troops were to be reduced over time in Afghanistan with a final withdrawal date of May 1, 2021, on the contingency that the Taliban abides by a commitment to a reduction of violence. President Joe Biden since altered the timeline, announcing in April 2021 that all troops would be withdrawn from Afghanistan by Sept.11. However, U.S. troops officially evacuated the country on Aug. 30 due to Taliban seizure.
"It's upsetting because we left a lot of our counterparts high and dry, which is not something that is new," Bischoff said.
Leaving Afghanistan was inevitable at some point, but to fully abandon the country was only precedented by the same traumatic exit made by the U.S. in Vietnam, breaking promises with natives who risked their lives to help the American cause, while leaving no contingency plans in place.
"When America promises something, we need to follow through on the promise. If we're supposed to be the world leaders, we need to be the world leaders," Bischoff said. "If you ask me, what happened is a complete failure on leadership at all levels and it goes top-down."