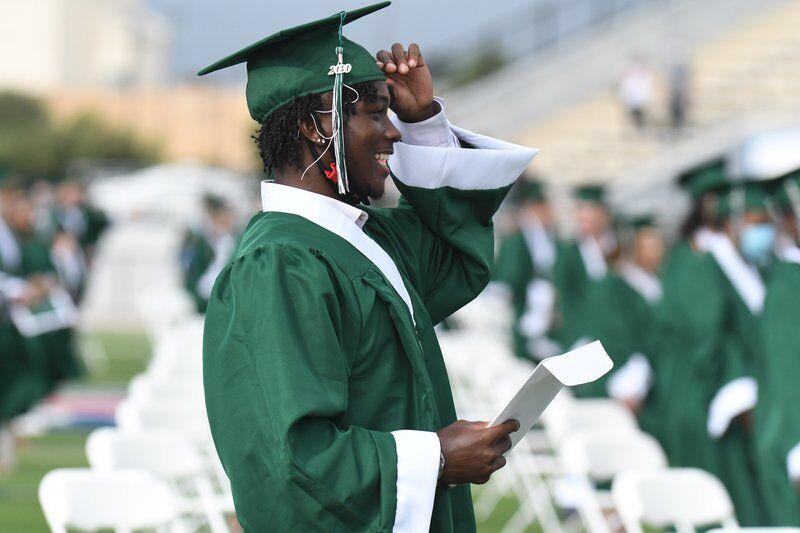 Eight years ago they stood and watched as Huntsville voters rejected a $65.5 million bond.
However, now there is a new rush of optimism within the community members of the long-range planning committee for Huntsville ISD.
The group, which was composed of teachers, administrators and community leaders, has pushed forward packages that are nearly double the 2013 price tag. However, thanks to an influx of growth and record low interest rates, the taxpayer burden will be nearly half.
It's a point that members of the long-range planning committee have been driving home in the community.
"I can't imagine living in this city and not still caring about investing in the children that are part of my community. I don't want to turn a blind eye to it. I don't want to pretend like it doesn't exist. It's my responsibility to help our kids and our community. If that means pennies then I give pennies," said BJ McMichael, who helped lead the HISD Long Range planning committee towards $127 million in bond packages that will go before voters May 1.
The 79-member planning committee began their deliberations in February 2020, just before the world was brought to a grinding halt from the COVID-19 pandemic. However, they wouldn't let that stop them, as committee members pressed forward over Zoom to come up with a detailed plan that outlines needed improvements across the entire district.
Highlighting the bond packages is a $92 million referendum for academic facility upgrades at nearly every campus in the district. Mance Park Middle School will see major renovations to accommodate three grades including more classrooms, a larger cafeteria with performance stage, extensive renovations to athletic/PE and fine arts areas and enhanced security.
Stewart Elementary Huntsville Elementary, Samuel Walker Houston Elementary and the current Huntsville Intermediate School will also see large renovations and upgrades, including classroom additions.
The academic bond also includes construction of a new baseball and softball complex and a new auditorium at the high school. A separate $35 million referendum will construct a new football stadium, field house and tennis courts on the high school campus.
"Both of these propositions run the whole gamut," committee member and local business owner Stephanie Pitts said. "They address academics and they address athletics. Athletics is what keeps some kids in school, therefore it is just as important as the academic aspect.
"People need to look at the schools as a business, if your school fails then your town fails and I can't afford for this town to fail."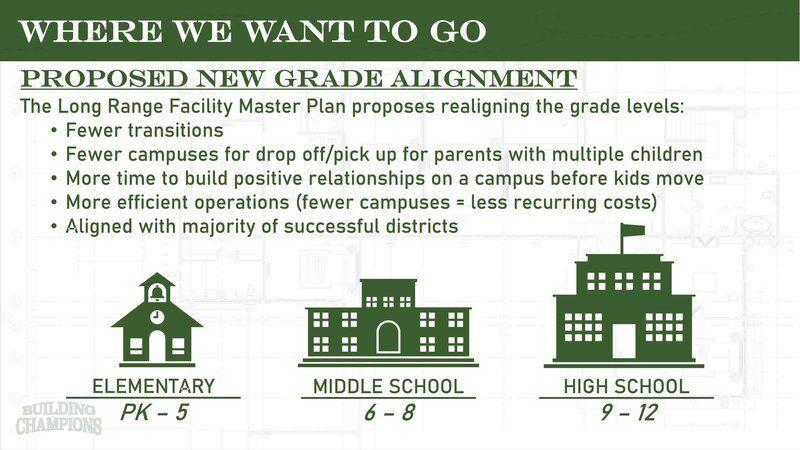 In hopes of improving the academic structure, district leaders will look to realign the grade levels at Huntsville ISD. That move would place pre-kindergarten through fifth grades at four elementary campuses, while moving sixth grade over to Mance Park. However, most of the campuses will have to be expanded for the project to work.
"My own kids may not see it, but the kids that we work with thorough Arise 2 Read will benefit for generations to come," said Holly McMichael, another member of the committee and the executive director of Arise 2 Read, which places adult mentors with second graders in the district in an effort to increase their reading comprehension. "Everyone I think that my life touches benefits from this bond package.
"If we want Huntsville to be better, then it has got to start with our school district. If we can get some of these things to catch up with what teachers and administrators are already doing to make the environment better, then it's just going to make Huntsville the best that it can be."
Early voting for the Huntsville ISD bond election will be held April 19-27, with Election Day on Saturday, May 1. The deadline to register to vote is April 1.
—
Read more on the Huntsville ISD bond election at www.itemonline.com/bond.