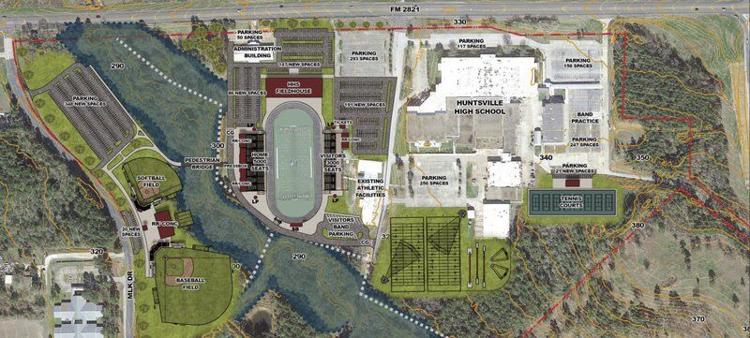 It's been nearly 50 years since the Friday Night Lights have shined on a Huntsville ISD campus. 
As one of only two school districts in the Lone Star State without a varsity competition football stadium, Huntsville ISD has been at the mercy of Sam Houston State University and surrounding school districts. However, a new proposal could change that.
In a proposed update to the Long Range Master Plan on Tuesday, HISD Superintendent Dr. Scott Sheppard revealed plans for a nearly $35 million athletics complex on the campus of Huntsville High School.
The announcement comes on the heels of a tumultuous six months for the school district. Huntsville ISD was forbidden from holding traditional graduation services on the Sam Houston State University campus and were forced to honor the Class of 2020 at a stadium 41 miles away in Shenandoah. The high school football team will also be unable to host its final two regular season home games and first-round playoff game at Bowers Stadium, being forced to utilize a stadium 30 miles away in Madisonville.
"We have for years been reliant upon other people to supply us with a place to compete," Sheppard noted.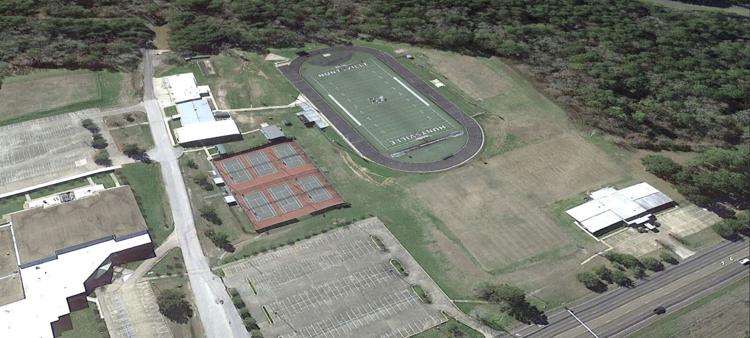 Construction of athletic facilities, which per state law would be a separate referendum on a bond election, calls for the construction of an 8,000-seat stadium and a new field house. It would also include two new practice fields and a relocated tennis complex.
"In three weeks every other district champion is going to play on their home field and we won't," Sheppard said. "But more than that, building a new stadium could have a large impact on the community from an economic standpoint. You would be surprised how much sales tax revenue is generated when you host a playoff game or a baseball tournament."
The new proposal will still have to be added to the Long Range Master Plan by the HISD Board of Trustees, prior to calling for a public vote.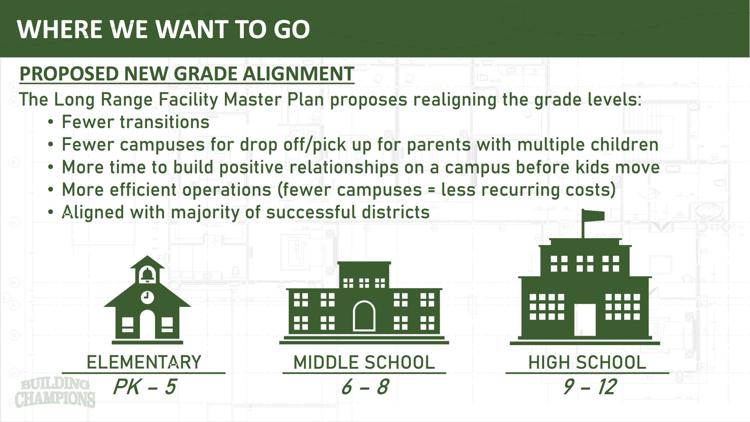 UPGRADES TO ACADEMIC FACILITIES
The key portion of a proposed bond issue, which will likely be presented in either May or November 2021, is nearly $92 million in upgrades to virtually every campus within the district.
The basis for everything is a grade reconsolidation, which would group pre-kindergarten through 5th grade into four elementary campuses, while moving 6th through 8th grades to Mance Park Middle School.
"Our Long Range Planning Committee decided that one of the largest hurdles facing our district is the sheer number of transitions that our kids go through. You can live in the same home your entire life and go through five campuses with five transitions," Sheppard said. "It's not an accident that the majority of successful districts in Texas use this grade alignment that we are proposing. But in order to do that it is going to require some renovations and upgrades."
Academic upgrades include extensive maintenance and safety improvements to all campuses. The largest renovation will be at Mance Park Middle School, with officials planning to add classrooms to accommodate three grade levels. All elementary schools will also add classrooms. Huntsville Intermediate School will be transitioned into Scott Johnson Elementary School and the current Scott Johnson Elementary will become a community center.
The academic bond proposal would also construct a new baseball and softball complex and a new auditorium on the Huntsville High School campus.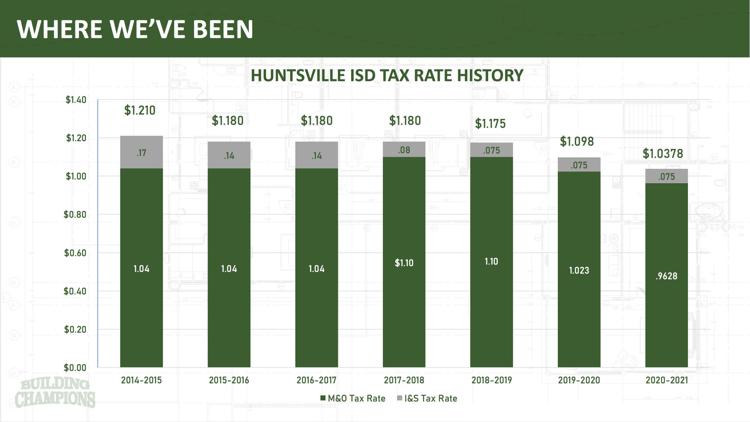 WHAT IT COULD COST TAXPAYERS
Current estimates project a maximum of 6 cent per $100 valuation increase in the district's debt rate for the academic upgrades, while the athletic facilities could cost taxpayers as much as an additional 5 cents.
Huntsville ISD currently has one of the lowest tax rates in the region at $1.0378 per $100 valuation — far below the statewide average of $1.22. The district has also not successfully passed a bond issue in over two decades.
A $65 million proposal, which would have cost taxpayers nearly 14 cents per $100 valuation, was voted down in 2013.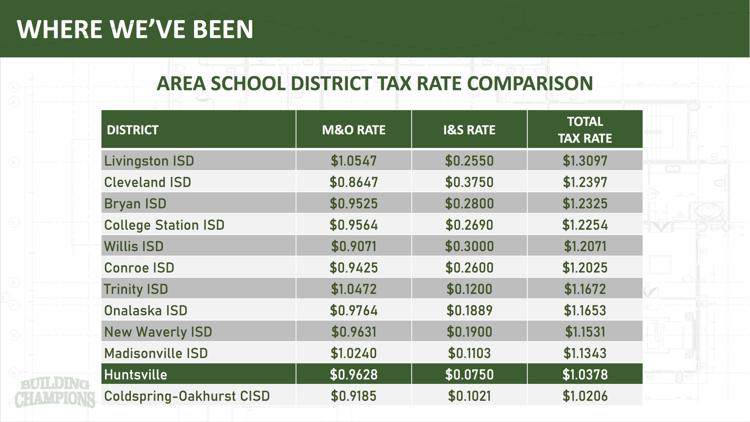 "It's almost the perfect storm for the district, with interest rates at historic lows and building costs going down," Sheppard noted. "This is the perfect time to give voters an opportunity to let democracy work and let them decide if this is something that the community wants."
Board members will have to call for an election by Feb. 12 for the construction proposals to be placed on the May 1, 2021 election.
—
See the full plan below.