It's been 75 years since the late Jack Evans stormed the beaches of Normandy in the largest seaborne invasion in human history, a major turning point for the Allies in World War II. 
75 years later, the horrors of the war still hit close to home when his widow Eleanor thinks of June 6, 1944 — known now as D-Day.
"Jack was in the first wave on D-Day with 36 men in his landing craft and only six of them surviving," Eleanor said. "He was over there for two years, and outside of the occasional letter, I never heard from him. They couldn't say where they were or anything, but at least you would know they were OK."
Evans was commissioned in the U.S. Army after graduating from Texas A&M in 1939. After college he went to work in the oil fields, never dreaming that he would be called up to active duty. But, soon after Pearl Harbor, he would get the call.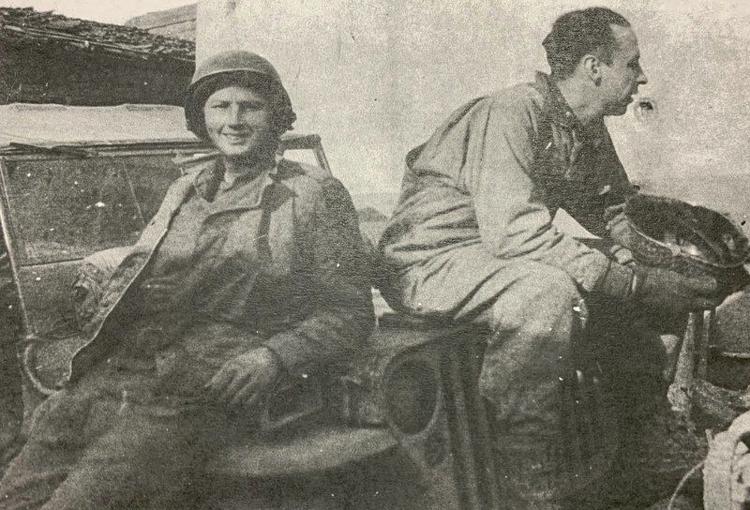 "D-Day was the worst day of my life," the Huntsville resident said prior to his death in 2008. "I try not to think of it. I get very emotional.
"All the sights and sounds of D-Day, you don't want to relive it. Those who talk about D-Day weren't there."
Over the previous four and a half years, German armies had conquered a swath of territory stretching from France to Poland. The occupied area was considered so impenetrable that it was referred to as "Fortress Europe."
That all began to change on D-Day: June 6, 1944, when Allied forces crossed the English Channel and invaded northern France. To prevent an invasion from the sea, the Germans reinforced the French coast with a 2,400-mile defensive wall of obstacles, including 6.5 million mines, thousands of concrete bunkers housing artillery and tens of thousands of tank ditches.
Facing a daunting challenge already, troops like Evans were forced to storm the beach with near-freezing water up to their heads. Evans, who was a communications officer, was at even more of a disadvantage as he lugged all of the extra supplies.
Approximately ¾ of his company was either killed or injured on that day. Evans stormed the beaches just 10 days after undergoing hemorrhoid surgery.
Subsequent to D-Day, he and the others remaining in his outfit participated in the breakthrough at St. Lo, the Liberation of Paris and the Battle of the Bulge. After crossing the Rhine, south of Berlin, they met with Russian forces at the Elbe River, where thousands of the enemy were captured in and around Franzensbad, Czechoslovakia. Next, he would join in the occupation of Bamberg, Germany, where soldiers would eventually celebrate V-J Day — August 14, 1945.
For his actions in combat, Evans was awarded the Bronze Star with two Oak Leaf Clusters, as well as the Silver Star.
Though Evans died in 2008, Eleanor remains in Huntsville, fighting to keep her husband's legacy alive.
"Jack was a special person," Eleanor said. "Even after going through surgeries 10 days earlier, Jack knew he had to go alongside the men he trained with. He had a lot of courage."