For thirty years, Melanie Michaelchuk wanted to visit and reach the summit of Mount Kilimanjaro, but the plans seemed to fall through. 
However, Michaelchuk is not one to back down from any challenge.
"I tried to recruit some friends to join me in the climb, but they backed out," Michaelchuk said. "I was not going to let that stop me though. My mind was made up and I went alone."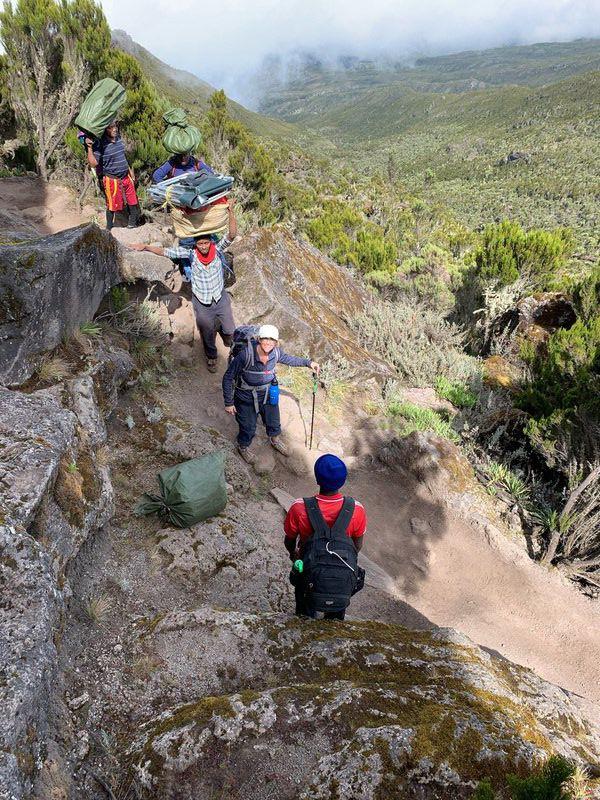 Michaelchuk, who works as the assistant manager at the Curves in Huntsville, began her journey in December of 2017, when she joined the club. She began to workout regularly and eventually lost over 60 lbs.
In July of 2018, she started planning for the trip, after finding inspiration at a women's empowerment conference.
"I made my mind up after attending that conference last July," Michaelchuk added. "I wanted to show these women that anything is possible if you tell yourself you can do it."
After deciding to take the trip, Michaelchuk booked her trip and began communicating with Elly Anase, who would be her guide up the mountain. With Anase's help, Michaelchuk began a regime of weight training, 5k races, swimming, biking and hiking.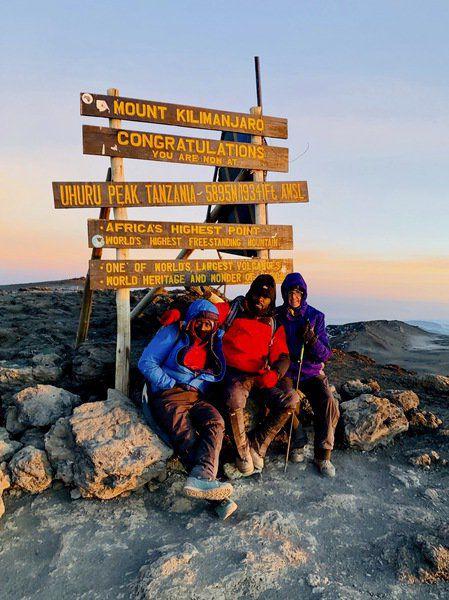 "During my training I came to Curves four to five times and week and ran regularly," Michaelchuk said. "I constantly talked to Elly who would give me encouragement and told me everything I needed to know to prepare for the journey."
Michaelchuk got her first taste of mountain climbing during a February trip to New Zealand, where she summited Mt. Taranaki. According to Michaelchuk, the mountain is volcanic and has similar terrain to Kilimanjaro, albeit not as tall.
"Taranaki was great training for the trip and it gave me a better idea of what I was in for," Michaelchuk added. "It is a lot different than climbing the hills of Huntsville."
Michaelchuk began her journey to Kilimanjaro on July 3, but had to make it to Tanzania first.
"I took a flight from Houston to Doha (Qatar), which took over 14 hours," Michaelchuk said. "Luckily, the airport had nap pods. Then we flew from Doha to Nairobi and finally to the Kilimanjaro airport. In total, it was a 30 hour trip and we began our trip the next day."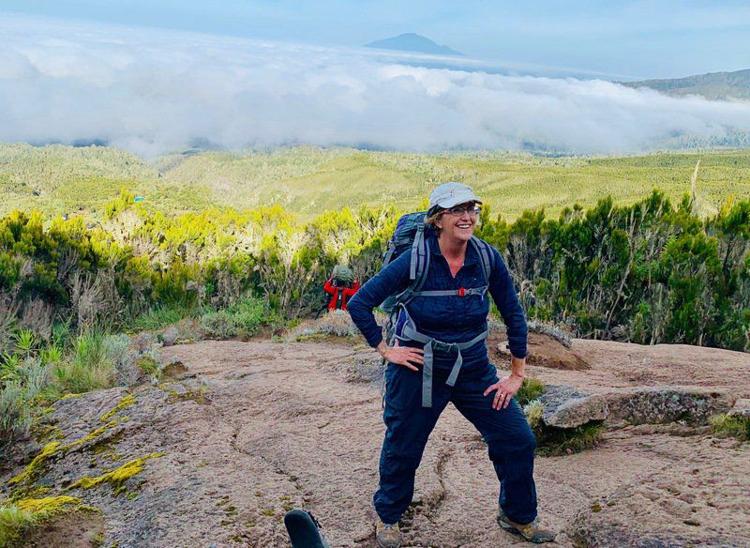 Unfortunately, her backpack with all her gear was left behind in Nairobi because it could not fit on the plane.
"In Kenya, if the luggage does not fit in the plane, they put it on the next one," Michaelchuk added.
After hours of travel, Michaelchuk finally reached the gates at the bottom of the mountain to begin the week-long journey.
"There are eight trails to climb the mountain, we took the most scenic and most difficult ... named Macheme," Michaelchuk said. "When we began the trip it was around eighty degrees, but it would go down from there. Our first couple days we traveled through a rainforest-like area and as we went up, it became more desert-like. The flowers, animals and landscape was always beautiful though."
Each day, guides carried climbers bags, equipment and food and had all of it ready and prepared before climbers arrived. Climbers would travel for 12-16 hours each day, and Michaelchuk said everyday would be ten degrees cooler as they ascended the mountains.
"On our final day, we left our camp at 11 p.m. to arrive at the summit before sunrise," Michaelchuk said. "They do that because you cannot see how far the top is from there, and many people either stop there or try to strain themselves to get up quickly. The elevation is also dangerous for some people."
Finally, as dawn broke, Michaelchuk and the group reached the summit, looking down on the clouds, glaciers and volcanoes and seeing how far she had come.
"When I got there, Elly brought me hot tea, which was a great treat since it was windy and 20 degrees and difficult to breathe," Michaelchuk added. "Although I could not feel my fingers, it was an amazing feeling like you are on the top of the world."
Shortly after, the group began their 19,341 foot descent. Going down the mountain took one and a half days as opposed to the six-day ascent.
"It felt a lot like skiing going down," Michaelchuk said. "It was much quicker and easier."
This was all about taking all the steps I needed to do to accomplish my goal and I want to inspire others to reach theirs. Many have asked me what is next or if Everest is my next challenge. All I can say is maybe."
Michaelchuk will tell the story of her climb and preparation for summiting Mount Kilimanjaro Tuesday at 1:00 pm and 5:30 pm at Curves.