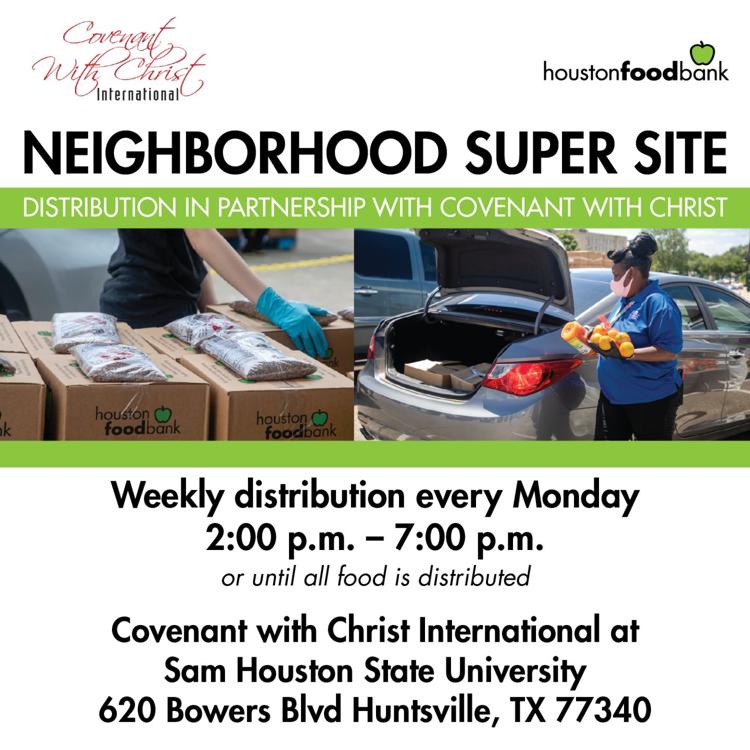 In response to food assistance demand during COVID-19, Houston Food Bank has started Neighborhood Super Site distributions in different areas of town. 
The newest distribution will be held on Mondays from 2-7 p.m. at Bowers Stadium on the campus of Sam Houston State University. However, there won't be a distribution on Monday, May 25 in observance of Memorial Day. 
Distributions will be provided on a first-come-first-serve basis. 
The goal is to distribute food to 1,500 vehicles per week. Each vehicle will be given approximately 60-80 lbs. of food, from fresh produce to frozen meat, dairy, bread and non perishables. This distribution is held in partnership with Covenant with Christ International.
Workers will minimize contact with families by placing food in their trunks.
Houston Food Bank's mission is to provide food for better lives.Last year they provided access to 104 million nutritious meals in 18 counties in Southeast Texas through their 1,500 community partners, which includes food pantries, soup kitchens, social service providers and schools.
Houston Food Bank works alongside our partner food banks in Montgomery County, Galveston Country and the Brazos Valley. Houston Food Bank is a certified member of Feeding America, the nation's food bank network, with a four-star rating from Charity Navigator.