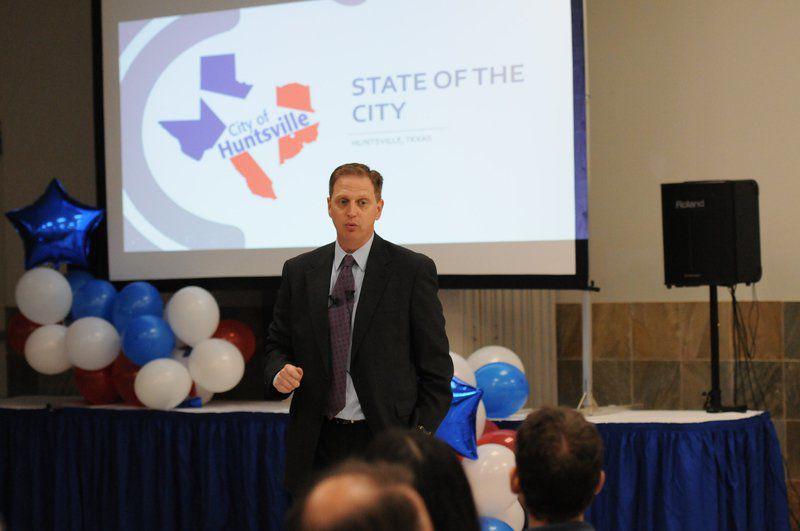 Huntsville city manager Aron Kulhavy apologized on Tuesday after he came under fire from community members for comments made in a city release that many claimed "validated a false narrative" of an alleged attack on the 67-foot statue of Sam Houston earlier this month.
"In my brief statement I intended to reassure everyone that we were aware of the situation and prepared to handle any issue presented to us. It has since been brought to my attention that the message was interpreted in a manner that I did not intend," Kulhavy said to start Tuesday's meeting of the Huntsville City Council. "Some did not see my comments as reassurance, but validation to a false narrative posted on social media. I can assure you that this was not my intent and offer apologies to those who were offended by the statement I made. I understand the power of words and vow to do better in relaying my actual intentions in the future."
The post that was published on the city's website and Facebook page came after rumors were circulated on social media, particularly Facebook, that depicted members of the local Black Lives Matter group as "terrorists" and claimed that they were going to tear down the statue on July 11. Multiple comments to the post threatened harm to those individuals in an attempt to "defend" the statue honoring Texas' first president.
In response, dozens of people gathered at the statue on Interstate 45, some of which were armed. However, no incidents of violence or vandalism were reported and the threat was deemed "not credible" by officials with the Huntsville Police Department.
"The words used by this city were grossly irresponsible," community member Amanda Louie said during the public comment period. "What was the city prepared to do to defend big sam … was the city locked and loaded. Violence calls out to the violent."
"Deranged people armed to the teeth, who believe fake posts on social media descended onto our town. This was the type of person you invited to our town with your words."
Another community member told a story of a young Black woman, who was curious and visited the statue during that Saturday.
"She visited the statue and felt racially interrogated," Crystal Brown said. "Her family told her to not come back to Huntsville ever again. This is the image you helped promote."
However, not all of those who spoke took exception to Kulhavy's comments.
"It's amazing how all of us are fighting with one another," said Deborah Mctighe. "The Black Lives matter… I get why you wanted to protect the statue, because we see in other cities where these people come in and tear the towns up, destroy things and disrupt people. They are not really for black lives, they are just for destruction.
"This black lives matter group has totally erupted everything. I can't find anything that is positive about them right now … they don't speak of peace, their taking over towns and disrupting things."
No members of the Huntsville City Council made a public comment in regards to the issue at the meeting.