Cases of the COVID-19 coronavirus jumped Tuesday with the Walker County Office of Emergency Management reporting a total of six cases. 
According to the Texas Department of State Health Services, there have been 3,997 confirmed cases of the virus in the Lone Star State. There are 93 confirmed cases in Montgomery County, 53 cases in Brazos County and 680 cases in Harris County. 
There have been 47,857 people tested in Texas with 58 fatalities. 
Walker County Cases 
| | |
| --- | --- |
| Case #!  | Male in early 20s  |
| Case #2 | Female 30-40 |
| Case #3  | Male, unknown age |
| Case #4  | Male 50-60  |
| Case #5  | Female 20-30  |
| Case #6 | Female 60-70  |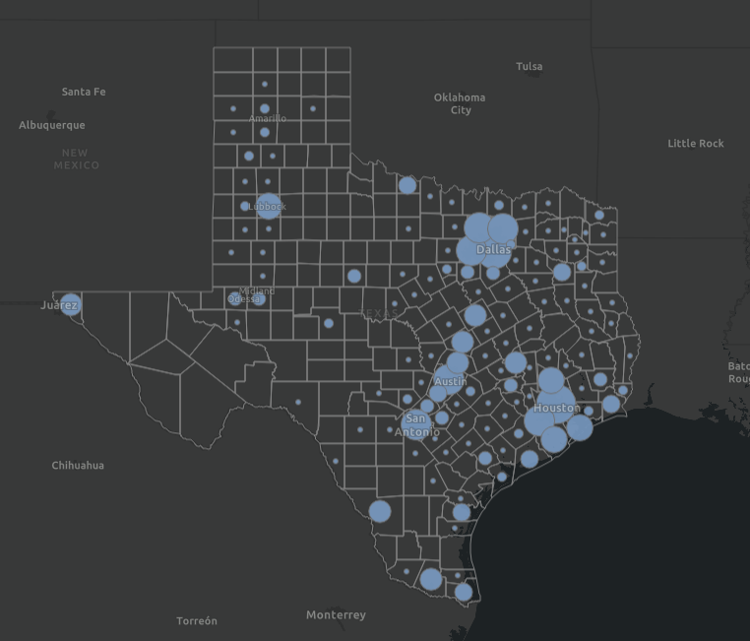 Cases by county:
(135 of 254 counties reporting cases)
Harris County — 680
Dallas County — 631
Tarrant County — 273
Travis County — 244
Bexar County — 207
Denton County — 206
Collin County — 184
Fort Bend County — 163
Galveston County — 106
Lubbock County — 100
Brazoria County — 95
Montgomery County — 93
Brazos County — 53
El Paso County — 50
Williamson County — 50
Hidalgo County — 46
Webb County — 45
Bell County — 44
McLennan County — 44
Hays County — 38
Wichita County — 38
Smith County — 37
Nueces County — 34
Jefferson County — 27
Cameron County — 26
Matagorda County — 25
Ellis County — 20
Guadalupe County — 17
Washington County — 17
Midland County — 16
Victoria County — 16
Taylor County — 14
Hardin County — 13
Johnson County — 12
Comal County — 11
Ector County — 11
Potter County — 10
Bowie County — 9
Chambers County — 9
Rockwall County — 9
Tom Green County — 9
Bastrop County — 8
Castro County — 8
Grayson County — 8
Calhoun County — 7
Hockley County — 7
Kendall County — 7
Orange County — 7
Wharton County — 7
Gregg County — 6
Hood County — 6
Randall County — 6
Walker County — 6
Angelina County — 5
Rusk County — 5
Val Verde County — 5
Wilson County — 5
Cherokee County — 4
De Witt County — 4
Fayette County — 4
Hunt County — 4
Kaufman County — 4
Nacogdoches County — 4
Navarro County — 4
Parker County — 4
Polk County — 4
Starr County — 4
Terry County — 4
Uvalde County — 4
Brown County — 3
Burnet County — 3
Cass County — 3
Dawson County — 3
Eastland County — 3
Grimes County — 3
Harrison County — 3
Hopkins County — 3
Lamar County — 3
Liberty County — 3
Llano County — 3
Medina County — 3
Waller County — 3
Wise County — 3
Young County — 3
Atascosa County — 2
Austin County — 2
Colorado County — 2
Crane County — 2
Deaf Smith County — 2
Erath County — 2
Hill County — 2
Karnes County — 2
Leon County — 2
Limestone County — 2
Lynn County — 2
Milam County — 2
Oldham County — 2
Robertson County — 2
San Patricio County — 2
Shelby County — 2
Upshur County — 2
Van Zandt County — 2
Willacy County — 2
Anderson County — 1
Blanco County — 1
Burleson County — 1
Caldwell County — 1
Camp County — 1
Clay County — 1
Comanche County — 1
Coryell County — 1
Falls County — 1
Fannin County — 1
Franklin County — 1
Gaines County — 1
Gonzales County — 1
Gray County — 1
Hale County — 1
Henderson County — 1
Jackson County — 1
Kerr County — 1
Kleberg County — 1
Lamb County — 1
Lavaca County — 1
Live Oak County — 1
Martin County — 1
Maverick County — 1
Montague County — 1
Moore County — 1
Morris County — 1
Newton County — 1
San Augustine County — 1
San Jacinto County — 1
Swisher County — 1
Wood County — 1