Sam Houston State students were among the thousands gathered to observe the inauguration of Governor Greg Abbott and Lieutenant Governor Dan Patrick earlier this month. The students witnessed the swearing in of the top two elected officials in the state, a flyover, a 19-cannon salute, a Chuck Norris sighting, public policy pronouncements and the pageantry and possibilities of democracy in action.
Two of these students, Victoria McClendon-Leggett and Makayla Mason, are LEAP (law, engagement and politics) ambassadors, who traveled to Austin specifically to see the inauguration. The other 11—Maggie Denena, Jezel Luna, Mackenzie Smith, Brittany Gibson, Anne Jamarik, Yvana Kepnga, Ilexus Williams, Karen Tinajero, Peyton Reed, Monica Dike and Jordan Davis—are part of the Sam Houston Austin Internship Program (SHAIP).
As interns in legislative, government, and non-profit offices in Austin, they are exploring career possibilities while learning about politics in real-time. For them, attending the inauguration was a simple matter of walking 100 yards or so out of their offices to watch the inauguration unfold.
"It was a great experience," said Maggie Denena, who is interning with Representative Will Metcalf (R-T16th). "In principle I know that inaugurations occur, but being there allowed me to see it in person."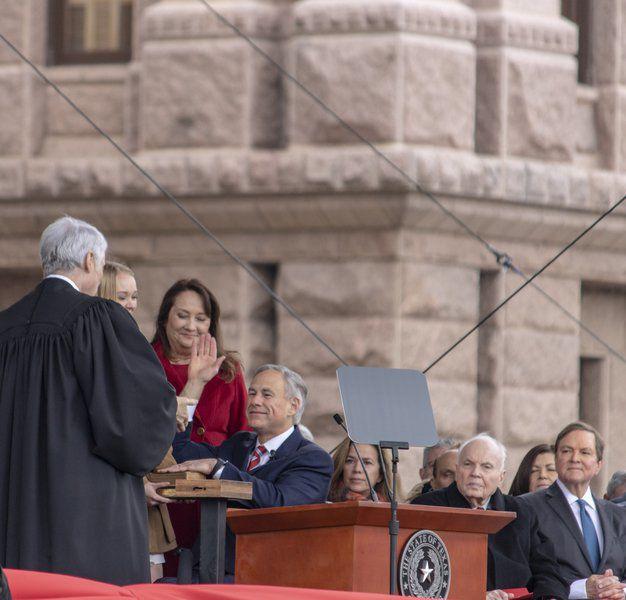 Denena, along with several of her fellow Bearkats, watched the events unfold from the first 15 rows, spots reserved for legislators and their staff.
"The view was great," said Yvana Kepnga, who is interning for Representative Eric Johnson (D-T100th). "We've been learning nonstop since being in Austin and today was no exception. It's wonderful to see all that Austin offers in terms of possibilities."
The inaugural event began with a prayer—one of three for the day—introductions of elected officials and notable people, and pledges to both the US and Texas flags, before the swearing-in ceremonies began.
Lt. Governor Patrick was sworn in first and he began his speech by thanking "security," at which point he referenced Chuck Norris, who was sitting behind him. Patrick introduced a theme of unity and bipartisanship, while also hitting on the three major policies that he, Speaker of the House Dennis Bonnen and Governor Greg Abbott are emphasizing this legislative session. Those include, school-finance reform, teacher pay, and reduction of property taxes.
Governor Abbott, who was sworn in by Texas Supreme Court Chief Justice Nathan Hecht on the "Sam Houston Bible," echoed the policy priorities of Lt. Governor Patrick. But if Patrick spoke of bipartisanship, Governor Abbott spoke of opportunities, striking the theme that, "In Texas, anything is possible," a message that no doubt resonated with the 13 Bearkats in the audience.
Although both Abbott and Patrick are Republicans, the 13 Bearkats fall almost equally in both parties—seven Democrats and six Republicans. They were there for the participation in the democratic process and, at least within their own group, for the spirit of Bearkat bipartisanship.
"I am a Democrat," said McClendon-Leggett, who is President of the LEAP Ambassadors, "but I wanted to attend because I wanted to see the process and be a part of it. Working with people you don't agree with is an important skill, and it's an important part of being a citizen."
As it turned out, these 13 Bearkats were not the only Huntsville citizens in the audience. The familiar faces in the crowd included: Tom and Sharon Fordyce—who were listed in the inauguration program as "honorary committee" members—Terry Stivers, Jeff Bradley, Shane and Madilene Loosier, Pat Graham, Deborah McTighe and Barbara Sloan.
While many of the Huntsville locals in attendance stayed for the "Inaugural BBQ" and even attended the Inaugural Ball featuring George Strait, the Austin interns had to return to work—part of their new reality. It's a reality they will face beyond the end of the semester and through the end of the session, but it's one embraced in the spirit of bipartisanship and the exploration of possibilities.